Christmas Paper Crafts
Make three types of homemade gift wrap with these easy Christmas paper crafts for children.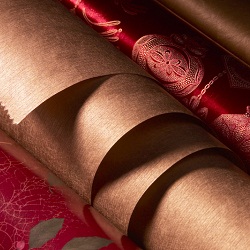 Leafy gift wrap



You will need

waxed paper
small pressed leaves and flowers scissors
an iron and old newspapers
coloured tissue paper

Method
Let your children place pressed leaves and flowers on top of the newspaper and place the waxed paper on top of the leaves.
Let an adult press the waxed paper with an iron until the leaves stick to the melted wax.
Turn the wax paper over, place tissue paper over the gift and wrap the gift with both layers of paper.
Wax and dyed paper



This is a most economical gift wrap.

You will need

sheets of plain butcher paper
white wax crayons or candles
thin watery paint or food colouring

Method
Using the wax crayon or candle, draw designs or patterns on the paper e.g. stars, flowers, wavy stripes etc.
Paint over the entire piece of paper using the food colouring or paint - the designs will remain white.
Allow to dry.
Stencilled paper



You will need

thin card
paint
small sponge
pencil
scissors
butcher paper or coloured tissue paper


Method
Make your own stencils by cutting out shapes from the cardboard. You can make circles, stars, hearts, bells, holly leaves etc.
Dip the sponge in paint and sponge inside the design to create your shape on the tissue paper.
Stencil a design onto a folded card to make a matching gift tag.
Preschool Christmas Crafts for Children
---