HOME
Preschool Homeschooling
Seasonal Themes
Preschool Skills
Preschool Activities
Christmas Gift Crafts
Let your children make homemade presents with these easy Christmas gift crafts.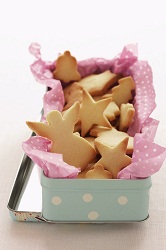 Stone Paperweights
You will need

large smooth stones
paints
paint brush
clear varnish


Method
Wash the stones thoroughly and then paint on your design.
When the paint has dried, varnish over the design and allow it to dry again.
Decorated Bottles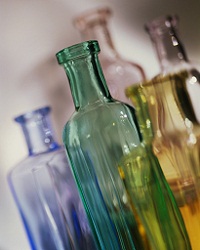 You will need

empty bottles with interesting shapes or jars
oil paints or gloss paint
paint brush


Method
Wash and dry the bottles well.
Paint a design or pattern on the bottles.
Use as containers for bath salts, homemade salad dressing, vases or candle holders, jars for nuts, preserves or other homemade treats.
Flour Patterned Scarf, Handkerchief or Bandana



You will need

flour
water
mixing bowl
spoon
pins
wooden board
cold water dye
bowl or bucket
paint brush
plain material or scarf
rubber gloves
saucepan
cooker

Method
Spread out your scarf or material and pin it to the wooden board.
Mix some flour and water in the ratio of three parts flour to four parts water. Mix well until you have a runny paste.
Using the paint brush, dribble the paste onto the scarf to form a thick pattern.
Leave to dry overnight.
Unpin the fabric and wearing rubber gloves place in a bowl of cold water dye, for about an hour.
Wearing the rubber gloves, remove it from the dye and rinse well.
Boil the scarf in a pot of water to remove all the flour paste. Rinse well in warm water and dry.
Preschool Christmas Crafts for Children
---