HOME
Preschool Homeschooling
Seasonal Themes
Preschool Skills
Preschool Activities
Christmas Decoration Crafts
Quick and easy ideas for homemade Christmas decoration crafts.
Christmas Crackers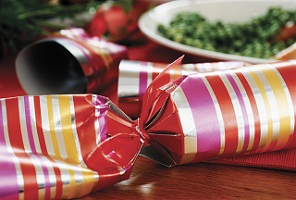 You will need

numerous empty toilet rolls
colourful wrapping paper or tissue paper
gift ribbon
small toys or chocolates
scissors or pinking shears




Method

This may have to be a joint effort between you and your preschool children, but it is a good activity for developing fine motor skills!
Place the gifts or chocolates inside the toilet rolls and wrap them, tying each side with gift ribbon to make a cracker.
Cut a strip of paper of a different colour and wrap it around the middle part of the roll for contrast.
Cut the edges of the cracker into zig-zags for effect.
Egg Shell Christmas Decoration Crafts
You will need:

empty egg shell halves
needle and thread
bright paints or food colouring
paint brush


Method

Prepare the egg shells carefully before the time. It would be a good idea to have plenty of extra shells in case the children break any!
Make sure the egg shells are clean and dry inside.
Push a needle and thread through the centre of the top of the shell and knot it on the inside.
Tie a loop on the outside by which to hang the shell.
Let the children paint the egg shell colourfully and hang them up for decoration.
Star Christmas Decoration




You will need

coloured paper
scissors
glue
thread


Method
Cut the paper into a rectangle with sides about 30 x 15 cm. (A4 size)
Fold it backwards and forwards concertina-style to form small equal pleats, about 1cm wide, across the width of the paper.
Fold the pleated strip in half and cut diagonally across the corner of the edges of the paper, not across the fold.
Now unfold it into a circular shape, glue it to complete the star and then hang it by a thread.
Preschool Christmas Crafts for Children
---