HOME
Preschool Homeschooling
Seasonal Themes
Preschool Skills
Preschool Activities
Wax-dye Art
A quick and easy wax-dye art activity for kids.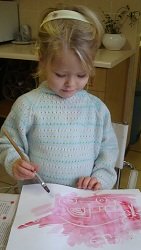 Wax and Dye Pictures
You will need

paper
wax crayons, including white and other colors
food coloring or dye
paintbrush


Instructions
1. Let your child draw picture outlines with the wax crayons or alternatively, you draw a simple picture for your child.
2. Paint over the drawing with some diluted food coloring or dye.
Ideas for Wax-dye Art pictures
1. Draw sea creatures and fish and then paint over it with blue food coloring to make an underwater scene to go along with a Preschool Ocean Theme.
2. Draw an aeroplane outline and lots of white clouds and paint over it with blue.
3. Draw a dark mountain silhouette and a yellow setting sun, then paint over it with red or orange to create a sunset effect.
4. Create an Easter picture of the 3 crosses at Golgotha as an easy preschool bible craft (below).


Preschool Bible Craft - Golgotha Silhouette
You will need
Drawing paper
Black wax crayon
Paint brush
Water color paints or diluted food coloring (red and/or blue)

Method
Create a silhouette of three crosses on a hill (as shown above). Draw the outlines for your children if they can't do it alone.
Let them colour in the mound of the hill and the three crosses with a black wax crayon.
Wash over it with water colour paints or diluted food colouring to make a sunset (shades of red) or dark blue/purple sky - remember it became dark in the afternoon when Jesus died. Mix the red and blue to create purple.
Add glitter and stars to the sky if you like - use star stickers or draw stars with white wax crayon before you wash over the picture.
Preschool Crafts

Easy crafts for kids submitted by visitors to this site.
You are invited to upload a pic and share your kids' craft activities too!


A comprehensive list of preschool crafts listed in four categories: painting, drawing, cutting and pasting, and modelling and construction activities for kids.


Enjoy this collection of printable crafts, including an alphabet coloring book, story-based lapbooks for children and other easy art projects.

Explore some easy Christams craft ideas for kids to make gifts and decorations for the festive season.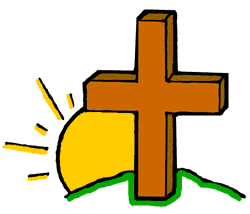 Christian Bible-based activities and Easter crafts for kids including recipes, art activities, Easter coloring pages, Easter poems/songs, background about Easter and the first Passover and more.
---