HOME
Preschool Homeschooling
Seasonal Themes
Preschool Skills
Preschool Activities
Four Season Tree Collage




Create a tree collage for any of the four seasons, spring, summer, fall and winter, or for an Arbor Day or Environmental Day craft activity.



This is a great preschool craft activity for any season: spring, summer, fall (autumn) or winter. Create a tree to match the season, or let your children make a poster or four trees, one depicting each season of the year.

This collage activity is also appropriate for Arbor Day, Environmental Day or any other environmental theme.

As a special variation, you can also make a Thanksgiving tree or Prayer tree as described below.

This activity can be done in a group or as an individual activity.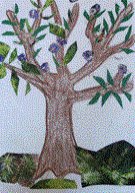 Summer tree collage




Before you start

Take the children for a nature walk to collect items such as leaves, blossom, berries, or bark for the tree collage, whatever is available at this time of year. Collect some soil in a small container and wet it to make a little mud.



You will need

wood glue
soil
paint brushes
one or all of the following:
resources from nature: leaves, pine needles, blossoms, berries, grass, bark
coloured paper to cut into leaves and blossoms
gardening magazines to cut into leaves and blossoms
cotton wool to use as snow
Activity
1. Draw a tree outline/s on the sheet of paper or poster.
2. Allow your children to paint the tree trunk and branches with the mud. (Alternatively, colour with crayon or use pieces of bark.)
3. Show them how to cut leaf shapes from the coloured paper or gardening magazines that you have provided.
4. Cut flowers from the magazines or flower shapes from the coloured paper.
5. Alternatively, paste the resources from nature that you collected onto the tree.
Making a winter collage

Completed winter tree pictures




Spring - paste green leaves and tiny blossoms on the tree
Summer - glue on plenty of leaves and fruit on the tree
Fall - paste orange, red, yellow, gold or brown leaves on the tree
Winter - leave the tree bare or glue on cotton wool as snow




Variations

Thanksgiving tree

1. Make large green leaves to paste on the tree.
2. Ask the children to tell you what they are thankful for and write these things on the leaves.
3. Let them paste them on the tree.



Prayer tree

1. Write your children's or family's prayer requests on large blossoms and paste them on the tree.
2. When the prayer is answered cover or replace the blossom with a fruit on which the answer is written or depicted.





Earth Day
This papier mache' earth craft is a great project for Earth Day or an introduction to an Around the World geography theme.

Six fall crafts for kids including collage, two birdfeeders and environmental activities.



Find dozens of other preschool crafts listed in categories: painting, drawing, modelling and cutting and pasting activities.


---