HOME
Preschool Homeschooling
Seasonal Themes
Preschool Skills
Preschool Activities
Soap Experiment
A quick and easy soap experiment that demonstrates how soap reduces surface tension.
Surface Tension
Explain to your children that there are forces of attraction between the molecules of a liquid.
Products like soaps and detergents weaken or break these forces of attraction and help other substances to mix with them more easily. This helps us with cleaning and washing things like dishes, clothing and our bodies.



Soap Washing Experiment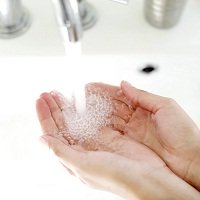 You will need
cooking oil
water
dishwashing liquid


Method
Place a few drops of cooking oil on your hand and rub it on the palms of your hand.
Rinse you hands under water and see if the oil is removed.
Now add a drop of dishwashing liquid, rub it on your palms and then rinse again.

Result
The dishwashing liquid enables the oil to mix with the water and to be removed from your skin more easily.
Did you know?
There is historical evidence that soap-like products were made in about 2800 BC in Ancient Babylon.
A recipe for soap, consisting of water, alkali and cassia oil was recorded on a Babylonian clay tablet dated around 2200BC.
Ancient Egyptian documents also record that oils were mixed with alkaline salts to produce soaps. Ancient Egyptians bathed regularly and soap-like substances were also used to prepare wool for weaving.
(
Source - Wikipedia
)

Use talcum powder to demonstrate visibly the effect of detergent on the surface tension of water in this easy science experiment.

Easy Science Experiments for Kids

Evaporation Science Experiment
Salt Solution Evaporation Experiment
Sugar Crystals Experiment
Sugar Tower Absorption Experiment
Capillary Action Experiments
---