HOME
Preschool Homeschooling
Seasonal Themes
Preschool Skills
Preschool Activities
Soap Bubbles
Make these soap bubbles to learn about surface tension and water in these easy science experiments.
Making Bubbles
You will need
small bottle of glycerin
dish soap
1 cup water
wire or bubble wand



Bubble mixture recipe
1 T glycerin
2 T dish soap
1 cup water
Mix the ingredients above together in a small container.
Twist the wire into a loop to make a wand.
Dip it into the bubble mixture and carefully blow onto the loop to release your bubbles.
Result
Dishwashing liquid can stretch out very thinly, so it stretches across the wand or loop and even around the pockets of air that you blow into it to create a bubble.



Variation - Giant Bubbles
Mix about 4 times the quantity of bubble mixture above in a larger, flattish container.
Bend a wire coat-hanger into a square or circular shape to make a giant wand.
Wind wool or string around the wire loop.
Dip it into the bubble mixture and wave it carefully through the air to release a giant bubble.
See my son, at age four, below with his giant bubbles created with a modified coat hanger!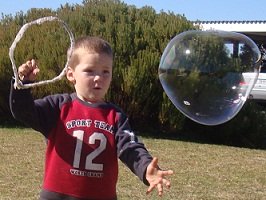 Science Toys - Accessories for Soap Bubbles

Create a 'learning environment' in your home, where children will develop skills they need in life while having fun! Use this list of educational toys and games for gifts for birthdays.

This quick and easy soap experiment demonstrates how soap reduces surface tension.

Use talcum powder to demonstrate visibly the effect of detergent on the surface tension of water in this easy science experiment
Easy Science Experiments for Kids

Evaporation Science Experiment
Salt Solution Evaporation Experiment
Sugar Crystals Experiment
Sugar Tower Absorption Experiment
Capillary Action Experiments
---