HOME
Preschool Homeschooling
Seasonal Themes
Preschool Skills
Preschool Activities
Snap-o-clock Math Game
Use this printable snap-o-clock math game to help your children learn to tell the time.
Learning to tell the time is an abstract concept that children must be mature enough to comprehend.
Children must first be able to count reasonably well and have an understanding of number symbols before they can learn to tell the time.
On the page title Telling the Time, there is a list of tips, ideas and activities that you can use to teach children the time, precept upon precept.
Once they have learned to tell the time, they can learn about analogue and digital time using this snap-o-clock math game.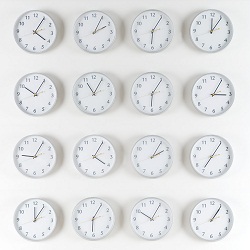 Snap-o-clock
You will need
Card
Marker
Scissors


Instructions
Print out about 24 of the snap cards using the template provided and cut them out.
Click here to download the printable Snap-o-clock Card Template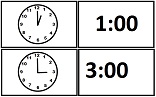 .
Using a marker, draw in the hands of the clock so that you have a set of 12 cards with all the hours of the day on them - "on the hour" only.
Write the same times on the other 12 cards as they would appear on a digital clock, as shown in the examples above.


Activity
Deal the cards between you and your child and play "snap" or "pairs" with your child.
As your child progresses, you can make more cards with the 'half hours' on them to practise the 'half past' times.


More Early Math Skills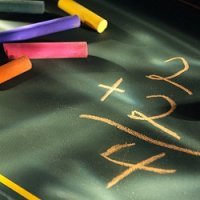 Telling the Time
Skills for Telling the Time
Clock Race Math Activity
Snap-o-clock Math Activity
Racing Time Math Activity
Shape
Printable Shape Recognition Activities
Build a House Shapes Math Activity
Measurement
Rain Gauge Activity
Paper Plane Math Activity
Number Recognition
Draw a Face Math Game
Dot-to-dot Math Activity
Bonds and Addition Facts
Spiders Math Activity
Ladybug Math Activities
Snap Math Game
---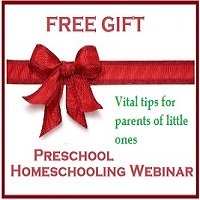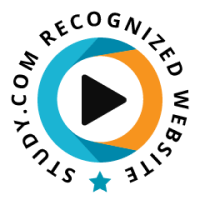 Less than $1 per week
Shirley's gentle, age-appropriate preschool programme gives you
alphabet-based activities
each week, alphabet crafts, alphabetized nursery rhymes, number and counting activities, as well as a list of recommended,
quality children's stories
to read aloud together as you and your children adventure through the alphabet, one letter per week.
All the hard work and planning is done for you - for less than $1 per week, you just open up the book and start the A-B-C fun!
Click here for more details: