HOME
Preschool Homeschooling
Seasonal Themes
Preschool Skills
Preschool Activities
Shapes Math Game
Use this fun Build a House Shapes Math Game to reinforce shape recognition skills.
Its much more fun to learn mathematical concepts by playing games, rather than just doing WORK on WORKsheets! AS children encounter math in everyday life, it becomes a part of their vocabulary in the database of information stored in their brains.
Playing games also teaches a variety of other useful lifeskills, such as turn-taking, sportmanship, counting scores, planning and strategy and other critical thinking skills.
This shapes math game is a good activity to develop shape recognition skills which are an important aspect of visual perception.
Of course, recognizing shapes is also basic geometry, to put it into mathematical terms!
Build a House Math Game
You will need

printing paper or card
shapes template
dice


Instructions

Take turns to throw the dice and 'win' shapes to build your house, according to the list below.
The first to finish wins.
If you throw a number for a shape you don't need, skip a turn.

1 = square
2 = triangle
3 = rectangle
4 = circle
5 =square
6 = choose any piece



The finished picture of a house, tree and kennel should look similar to the accompanying picture.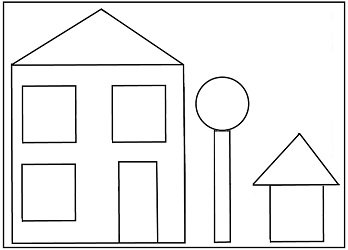 Variation - print the template on different coloured cardstock and add a discussion of colours to your game.

Skills - naming shapes, observing dimensions and relative sizes of shapes


Preschool Math Activities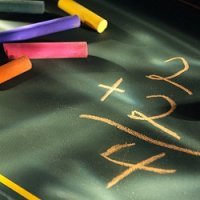 Telling the Time
Skills for Telling the Time
Clock Race Math Activity
Snap-o-clock Math Game
Racing Time Math Activity
Shape
Printable Shape Recognition Activities
Build a House Shapes Math Activity
Measurement
Rain Gauge Activity
Paper Plane Math Activity
Number Recognition
Draw a Face Math Game
Dot-to-dot Math Activity
Bonds and Addition Facts
Spiders Math Activity
Ladybug Math Activities
Snap Math Game
---