HOME
Preschool Homeschooling
Seasonal Themes
Preschool Skills
Preschool Activities
HOME
Preschool Homeschooling
Seasonal Themes
Preschool Skills
Preschool Activities
Sea Urchin Craft
Make this sea urchin craft using modeling clay and toothpicks. Quick and easy.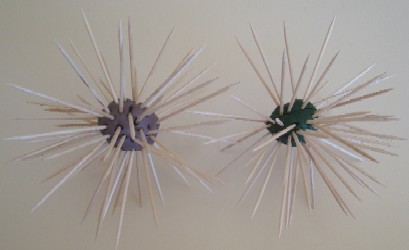 Prickly Sea Urchin Craft
You will need

play dough or modeling clay
toothpicks


SUPERVISE THIS ACTIVITY AT ALL TIMES AS TOOTH PICKS ARE VERY DANGEROUS!

Method

1. Roll the clay into a ball which will be the body of the sea urchin.
2. Help your child to poke the toothpicks into the clay to create the prickly spines of the sea urchin.
3. Hang or display your sea urchins out of reach of little children.
About Sea Urchins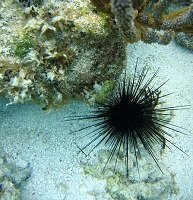 Sea urchins have been called pin cushions and sea pumpkins because of their appearance.
These animals have sharp spines, which are sometimes poisonous.
When the animals die, the spines often fall off and the round pumpkin-like shells may wash up on beaches.
Sea urchins may be found in many different colours - purple, green, orange, red, yellow, black etc.
Their mouths are at the center of the underside of the shell and they have five pointed teeth.
There are over 200 species of sea urchins and they are found all over the world.
Some live deep in the ocean and some live in shallow rock pools.
Preschool Ocean Theme Crafts

Make sparkly sea anemones using old plastic bags and empty toilet rolls.

Make a handprint fish and glue it onto sand collage along with some sea-weed to create an underwater picture.

Color cut and paste free printable pages to create a large under-the-ocean mural.
Click here for more Ocean Theme Ideas

Find a great list of really easy, no fuss kids' crafts divided into the following categories: painting, drawing, cutting, pasting, modeling and construction activities.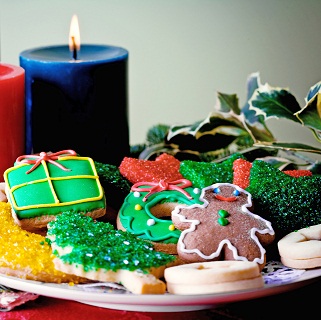 Theme for the whole year round - special holidays, countries from around the world, the four seasons and more.
---