HOME
Preschool Homeschooling
Seasonal Themes
Preschool Skills
Preschool Activities
Sea Anemone Craft
Use an empty toilet roll and a plastic bag to create this lovely sea anemone craft to go along with a preschool ocean theme.
About Sea Anemones
Although sea anemones might look like beautiful coloured flowers in the water, they are actually animals. The parts that look like petals are tentacles with tiny stinging cells.
They use them to catch their prey to eat. If another tiny animal lands on an anemone, the anemone stings it with venom that paralyses it and then pushes the prey into its mouth in the centre of its body.
The stings also protect anemones from being eaten by other animals, but the venom is not harmful to people.
Clown fish (like Nemo in Finding Nemo) shelter in anemones which protect them from other fish.
Sparkly Sea Anemone Craft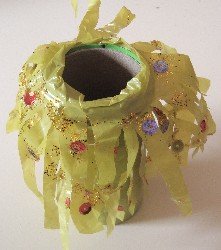 You will need
1 empty toilet roll per child or a tube made of card
plastic shopping bags (coloured)
scissors
contact glue
sticky tape
any sparklies such as glitter, sequins, small buttons, beads or craft 'sparkles' - even confetti or cereal bits could be used!






Method

1. Cut a piece of plastic from the shopping bag about the length of a ruler (or longer) and about twice as wide as the roll.

2. Decorate one half of the plastic strip (lengthwise) by glueing on the sparklies. (This is optional)

3. Allow some time for the glue to dry so the tentacles won't stick together when you cut them.

4. Cut the decorated half into thin strips that will become the tentacles of the sea anemone.

5. Wrap the solid half of the plastic strip around the toilet roll in layers and fasten the end down with sticky tape. The tentacles should be free to flutter and twinkle!





Variation of Sea Anemone Craft

You could make smaller sea anemones by cutting the toilet rolls in half or making smaller cardboard tubes. (See below)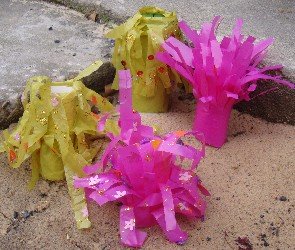 Sea anemones in the sand
Preschool Ocean Theme Crafts

Use modeling clay and toothpicks to create this sea urchin craft in almost no time at all!

Make a handprint into a fish and combine it with sand collage to create an underwater picture for your preschool ocean theme.

Use free printable pages to create a colourful underwater mural.
Click here for more Ocean Theme Ideas

Kids' arts and crafts ideas divided into the following categories: painting, drawing, cutting, pasting, modeling and construction activities.

Find activities for preschool themes - special holidays, countries from around the world, the four seasons and more.
---