Salt Solution Experiment
Discover more about evaporation and crystallisation with this easy salt solution experiment.
Salt Solution Experiment
You will need
2t salt
small bowl
plastic wrap
warm water
teaspoon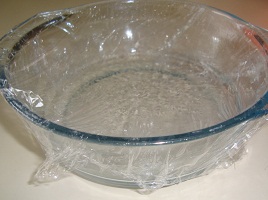 Method
Dissolve the 2 teaspoons of salt in a small bowl of warm water.
Let your children taste a tiny bit to confirm that it is salty.
Cover the bowl with the plastic wrap and set it aside in a warm place for an hour or longer.
After an hour you should see tiny drops of water on the plastic cover.
Remove the plastic carefully and let the children taste the water on the plastic.

Result
The water drops that accumulated on the plastic are not salty as the salt dissolved in the water in the bowl does not evaporate, but remains behind in the bowl.



Variation
Set the bowl aside without the cover for a few days until all the water has evaporated.
Show the children the salt that remains in the bowl. The separation of a dissolved substances from a liquid by means of evaporation is known as crystallisation.


More Evaporation Science Experiments

This is a fun and easy science experiment for kids. Let them discover how evaporation leaves colourful sugar crystals. You could also create rainbow-colored sugar by using a variety of different colored sugar crystals.

Evaporation Science Experiments
These are very basic evaporation science experiments that demonstrate that a liquid can become vapour.


Easy Science Experiments for Kids

Soap Bubbles
Soap Experiment
Sugar Tower Absorption Experiment
Capillary Action Experiments
Surface Tension Experiment
---