HOME
Preschool Homeschooling
Seasonal Themes
Preschool Skills
Preschool Activities
Preschool Shapes Activities
Free printable preschool shapes activities to encourage the recognition of circles, squares and triangles.
Use the free printable shapes pictures below to encourage your child to recognize circles, squares and triangles.
These activities will help your child develop shape perception and shape constancy which are important aspects of visual perception.
Shape perception refers to the ability to recognize shapes and to recognize a shape regardless of size, colour or the angle from which it is viewed.
You could ask your child to first color all the circles and then the rest of the picture. Ask her to count how many of each specific shape she can spot in the picture.
Also use the pictures for language development by naming and talking about the various items shown.
You could encourage your child to try and draw pictures of her own that are made up of shapes.
Click on each thumbnail image below to download the full size printable picture in pdf format. You will need to have Adobe Reader installed in order to view the file.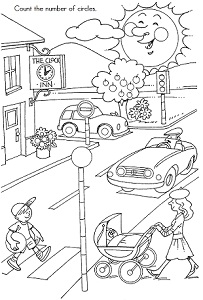 Build a House Shapes Math Game
Use this fun Build a House Shapes Math Game to reinforce shape recognition skills.


Preschool Math Activities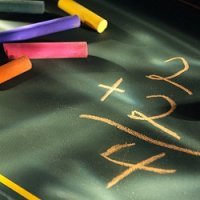 Telling the Time
Skills for Telling the Time
Clock Race Math Activity
Snap-o-clock Math Game
Racing Time Math Activity
Shape
Build a House Shapes Math Activity
Measurement
Rain Gauge Activity
Paper Plane Math Activity
Number Recognition
Draw a Face Math Game
Dot-to-dot Math Activity
Bonds and Addition Facts
Spiders Math Activity
Ladybug Math Activities
Snap Math Game
ABC Fun & 1-2-3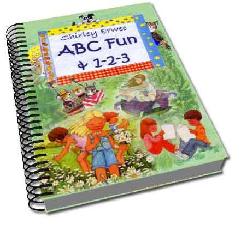 is a preschool programme that gives you

nursery rhymes

to learn each week, as well as a list of recommended,

quality children's stories

to read aloud together as you and your children adventure through the alphabet, one letter per week.

Gentle, age-appropriate activities and worksheets are included.

All the hard work is done for you, just open up the book and start building your child's communication skills for life!

Click here for more details: ABC Fun & 1-2-3



Top of Preschool Shapes Activities



---