HOME
Preschool Homeschooling
Seasonal Themes
Preschool Skills
Preschool Activities
Preschool Reading Together
Preschool reading activities lay the foundation for a child's later learning. Tips for encouraging your children to become life-long readers.




Before you read this page, please ensure that you have read the preceding parts of this article series:
This page is the second of a four part series:
Developing Early Reading Skills

Preschool Reading Together



As your child matures and her preschool reading skills develop, you will be able to share books with more complex story lines.

Picture books will still be favourites, but they will also enjoy appropriate chapter books that you read aloud.

Experts say that until the age of about 7 or 8 years, many children struggle to differentiate between fantasy and reality, between true stories and fiction, so choose the books you read to your children carefully.

I prefer to avoid traditional children's fairy tales with their supernatural or super-evil characters at this stage! Later when the children are older and able to discern between fiction and reality, they may be acquainted with this genre of our literary culture. Fairytales ARE an important tool for teaching morality and the difference between good over evil to children.

But, at age 5, one of my children asked me to stop reading The Wizard of Oz as he did not like the parts about the wicked witches. He found it too scary!

As your child's linguistic ability grows, begin to talk about the actions and events in the story books you read. Ask questions like, "What is (the character) doing?", "Where is she going?" and "What do you think is going to happen?" etc.

Busy books - those books with pictures filled with dozens of characters and objects are also fun to encourage the children to talk about as are text free books, which require you or your child to make up the words and tell the story yourself.

Continue to read a variety of poems and nursery rhymes with your children as rhyming verse has many benefits to their language skills. Click here for my article The Benefits of Preschool Songs and Nursery Rhymes and especially Two Preschool Ingredients for College Success.

Since your child's concentration span will be increasing, she may also enjoy listening to stories on tape or CD, especially when traveling long distances in the car.

By now, your child may begin to recognize letters and numbers and you may be tempted to begin actively teaching her preschool reading skills. Some children have been known to read as early as age 4, but these are the exceptions. Tips for teaching children that are ready to read will follow, but don't rush this, there are still many benefits to be enjoyed by reading together.





Children who are read to and encouraged to explore their world, will want to learn to read and write in their own time, and will also require much less 'teaching', if they are not pressured to do so before they are ready.
Before you rush to give your child what you think is an advantage, be sure to read the book Better Late Than Early
, which I strongly recommend, or at least my article based on their research and my own, Don't Start Too Early.
Stories Every Week
ABC Fun & 1-2-3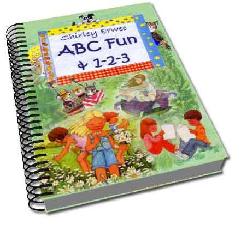 is a preschool programme that gives you nursery rhymes to learn each week, as well as a list of recommended, quality children's stories to read aloud together as you and your children adventure through the alphabet, one letter per week.
It includes age-appropriate learning activities that you can do to develop preschool reading skills, without burning out your preschoolers or making them feel pressured to learn.
Reviews of over 100 quality children's stories, listed from A-Z, available at the library are provided. There is no need to buy them all - just invest in your favourites!
All the hard work is done for you, just open up the book and start building your child's communication skills for life!
Click here for more details: ABC Fun & 1-2-3
Picture books that my preschool children have loved to read over and over:
Books by Richard Scarry

Kalinzu and the Oxpeckers
How it was with Dooms
The Story about Ping
Tabby the Wild Cat
Jesse Bear, What Will You Wear?
A House for a Hermit Crab
The Little House
We're Going on a Bear Hunt
Fly, Eagle, Fly! An African Tale


Chapter books for reading aloud with children:
NEXT >>>Part 3: Preschool Reading Activities and Games

Developing Preschool Reading Skills

---