HOME
Preschool Homeschooling
Seasonal Themes
Preschool Skills
Preschool Activities
Preschool Ocean Theme
Explore this preschool ocean theme that includes a story-based preschool lapbook and various ocean crafts for kids.
This preschool ocean theme was developed from our reading of the popular children's story, A House for a Hermit Crab by Eric Carle.
We created a lapbook as well as some other art and craft activities including construction models, playdough crafts, painting and collage crafts, which are listed below.
Exploring the Ocean with a Hermit Crab
Exploring the Ocean with a Hermit Crab is a lapbook project pack based on the story by Eric Carle, A House for a Hermit Crab
The printable project pack includes the following topics: my house, my address, growth chart, months of the year, sea creatures, hermit crab anatomy, oceans of the world and more!

Click here for info or to purchase this lapbook project pack: Ocean Theme Lapbook
Show your children this stunning video of a hermit crab switching shells.
Copy and paste the url below into your browser if it doesn't load.
http://www.teachertube.com/video/hermit-crab-shell-change-26588
Ocean Theme Crafts

Use an empty toilet roll and a plastic bag to create this lovely sea anemone craft to go along with an ocean theme.

Make this sea urchin craft using modeling clay and toothpicks. Its very quick and easy.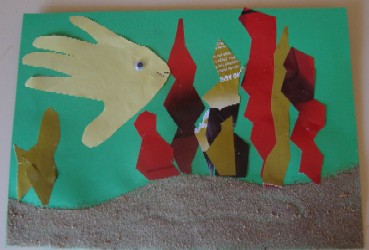 Use this handprint fish and sand collage craft to create an underwater picture as part of your ocean theme.

Create a colourful ocean theme mural using free printable pages.





Click here for more Ocean Theme Ideas

Bumpy starfish (finger painting and collage)
Hermit Crab Paper plate craft
Spatter painting
Fish model/mobile
Ocean diorama
Coral collage
Snail - playdough



Practical art and crafts projects for kids, teachers and parents including painting, drawing, cutting, pasting, modeling and construction activities.

Find ideas for preschool themes - holiday themes, around the world multi-cultural theme, the four seasons and more.
---