HOME
Preschool Homeschooling
Seasonal Themes
Preschool Skills
Preschool Activities
Preschool Math
Preschool math involves learning number recognition, counting and quantity.
Math also includes concepts such as money, time and measurement, problem solving skills like classification and sequencing, analytical skills and judgments which are required when weighing, measuring and budgeting as well as vocabulary and language skills for describing all these concepts.
This page is the first of three pages on ...
Tips for Teaching Preschool Math

Read these articles first:
1. YOU ARE HERE - What is Preschool Math?
2. Early Math Skills
3. Preschool Math Concepts and Activities


What is Preschool Math?
"There's a lot more to preschool math than numbers and sums; its an important language which helps us describe, explore and explain the world we live in... You don't have to be a mathematician to help your child learn maths. Just by reading aloud you play a vital role in their literacy development and similarly, you will play an important part in developing their understanding of mathematics."1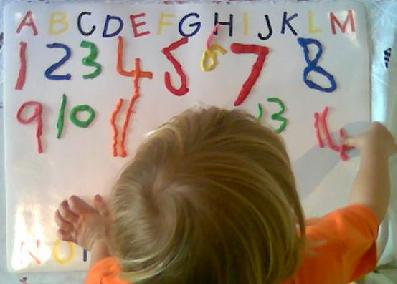 Creating numbers with modelling clay
Preschool math activities should happen naturally as you go about your day. Its not a scary subject you have to sit them down to learn formally. Young children learn mathematical concepts by exploring the concrete world through their senses, through constant experience, through practice and by repetition of learning activities.
Daily events in life involve arithmetic, so share these with your child so that he develops an awareness of numbers and a need to know about arithmetic.
Discussing concepts like bigger and smaller, more and less, taller and shorter is an example of preschool math activities in everyday life experience.
Children develop through three modes of thinking about numbers:
manipulative mode - working with real objects e.g. beans, cups, spoons


mental image mode - using mental images or pictures of real objects


abstract mode - using number concepts without thinking of images of objects

All children develop these modes of thinking in this same order. They can switch back to an earlier mode but cannot jump ahead until they have grasped the previous mode.
Since young children are only able to use the manipulative mode, preschool math activities must use concrete objects to teach numeracy awareness.
"Failure to do this is probably the single cause of children's arithmetic difficulties. It is why people grow up with Arithmetic Anxiety."

"...the secret is to begin the child's arithmetic at a young age by using real objects. Then spend a year or two having the child do a lot of arithmetic in her head...finally begin working with abstract symbols." (Ruth Beechick, The Three R's)
So, first show your child a certain number of objects, say three spoons, then introduce the number symbol, 3, that represents that amount of objects. Don't do it the other way around!
There is a plethora of preschool maths activities in Maths text books that begin at the mental image stage i.e. using pictures of real objects and number symbols. Only YOU can give your child the opportunity to repeatedly learn in the manipulative mode until she is ready for the next mode. Of her own accord, your child will let you know when she no longer needs real objects to count and can use mental images instead.
You should repeat preschool math activities often, as you go about your daily tasks, so that numbers and the related concepts will become a part of your child's everyday experience.
Cooking and baking with kids is a great way for children to explore concepts such as solids, liquids, measurement, mass, volume and more.
As Ruth Beechick warns: "...just don't push him to work problems in written symbols.
Most arithmetic should be mental. It happens in conversation, not in written assignments." (Ruth Beechick, The Three R"s)



ABC Fun & 1-2-3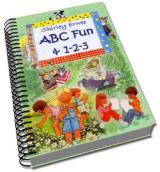 ABC Fun & 1-2-3 is a preschool curriculum that was written with this approach in mind.
Each week, there are suggestions of preschool math activities that you and your child can do to enable him to experience numbers, counting and other mathematical concepts in a concrete way.
ABC Fun & 1-2-3 is a no-pressure programme that helps you to enjoy the time you spend with your children, while stimulating them to learn at the same time.
These are snippets of a letter from a happy customer.
"I put so much pressure on myself to do what I thought was the best thing for my children, and gave them so little of me while I was trying to give them a good programme!

I have recently purchased ABC Fun & 1-2-3 from Shirley, which comes with my highest recommendation! I taught for 2 years, and thought that homeschooling meant that everything had to be perfect...

...what I love about Shirley's programme is that she gives an outline for the week, providing structure, which I need, and the activities are great and most of the stuff you will have in your home, and it is flexible." (Eloise, mom to two preschoolers)
Preschool Math Activities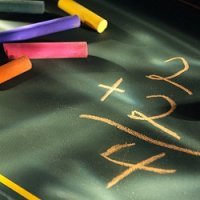 Telling the Time
Skills for Telling the Time
Clock Race Math Activity
Snap-o-clock Math Game
Racing Time Math Activity
Shape
Printable Shape Recognition Activities
Build a House Shapes Math Activity
Measurement
Paper Plane Math Activity
Rain Gauge Activity
Number Recognition
Draw a Face Math Game
Dot-to-dot Math Activity
Bonds and Addition Facts
Spiders Math Activity
Ladybug Math Activities
Snap Math Game
Toys and Games for Preschool Math Activities
The following is a list of useful toys and games to use for preschool math activities. Many of these are included as suggested activities in the preschool manual,
ABC Fun & 1-2-3.
Other preschool math activities are described in the free preschool activity e-zine, The Whole Child
Click here for other Recommended Toys and Games by age group.
Construction blocks (Lego)
Wooden blocks
Snakes & ladders
Ludo
Playing cards
Lotto
Pegboard
Puzzles
Dominoes
Skipping rope
Ball
Bean bag
Abacus
'Geostacks'
Sand pit

Tips for Teaching Preschool Math
2.

NEXT

-

Early Math Skills

3.

Preschool Math Concepts and Activities


Footnotes:
1. Adapted from If I Were bigger Than Anyone and Other Poems, Maths Together, Walker books, 1999




---