HOME
Preschool Homeschooling
Seasonal Themes
Preschool Skills
Preschool Activities
Preschool Lesson Plans
An Introduction to the World
Introduce your children to the world then use these preschool lesson plans to embark on a story-driven adventure around the world.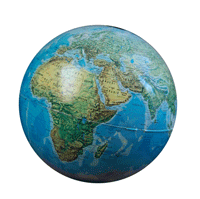 Before you begin your Around the World Preschool Theme, introduce your children to "The World".
If you have a globe, show them that this is a small version, a model of how the earth looks. Alternatively, use an atlas and explain that the map is a picture of the earth.
Begin by showing them the place on the earth where you live, name the city, state or country.
Next, ask them if they know any other places on the earth and see if they can point them out.
We began by saying: "We are here in Hermanus (near the southern-most tip of Africa) and Granny and Grandpa live 'there'. Someone else we know lives in Johannesburg. Uncle Joe lives in China and we have friends in New Zealand..." etc.
Do the same using people and places that are meaningful to your children.
If you are able, you could download Google Earth - its FREE - and take a look at the earth as photographed by satellites in space. It is amazing! You should be able to identify the very house or building where you are as viewed from above!
Below are the countries of the world that we have explored so far. You are also invited to share your 'travels' using the form that follows lower down the page and in return you will receive a free Ocean Theme Lapbook.
Asia

The Chinese New Year festivities are usually celebrated in February. Enjoy this preschool Chinese theme, including food, crafts, mapwork, a flag activity and more.

Discover the intrigue of Indian culture with a literature-rich India preschool theme including a map, flag, craft and other interesting facts about India.

Africa

North America

America Preschool Lesson Plans
Introduce your children to the map, flag, Statue of Liberty, American food, stories and more using ideas for the 4th of July, Flag Day or any other patriotic days.
Europe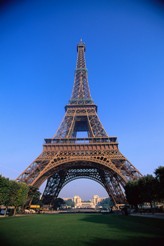 Discover the romance of France with a map to color, the French flag, French cuisine, a landmark, French vocabulary and some top class children's literature about France.
Share Your Around the World Preschool Lesson Plans
You can add to the ideas for studying the countries of the world on this website, by sharing the stories or preschool lesson plans that you and your children have enjoyed.
Pictures make web pages so much more attractive and interesting, so where possible, please upload a photo or two showing what you did and describe your activities as fully as possible.
Give suggestions of other related activities or variations that others could try.
Ask your children for feedback and share how they experienced the learning activity too.
Do you have ideas to share on this theme?
Do you have an Around the World idea, activity or resources to share? It will take you a few minutes to submit it below.

To thank you for your contribution, you will receive a free copy of my Ocean Theme Lapbook.
What Other Visitors Have Said
Click below to see contributions from other visitors to this page...

Around the World Birthday Party

We had an around the world birthday party for my son. We made little flags of different countries (fun colouring activity as well as cutting out the rectangular …
---