HOME
Preschool Homeschooling
Seasonal Themes
Preschool Skills
Preschool Activities
HOME
Preschool Homeschooling
Seasonal Themes
Preschool Skills
Preschool Activities
Preschool Lapbooking Tips




Tips on how to go about preschool lapbooking and the benefits of using lapbooks.



They say that good books touch our lives like good friends. In our homeschooling experience, this has been true. We read a lot of carefully chosen stories together - stories that take us to the worlds of different characters, - to worlds where we learn about people, places, animals, cultures, other times and other aspects of life in general.

Since so much of our learning is literature-based, I have realized that I also need to use creative, fun, hands on activities, so that my children would enjoy having something tangible to show for their efforts ... so from time to time, we create a file folder project or 'lapbook' about a topic we have been studying together.

Preschool lapbooking may either focus on a theme or they may be based on a children's story book. A lapbook is a portfolio or collection of mini-booklets of different shapes and sizes, which are arranged and attached to a coloured cardboard folder (or two or more folders joined together). Unlike a poster project, a lapbook can easily be folded up and stored and it can fit on your lap when you review it.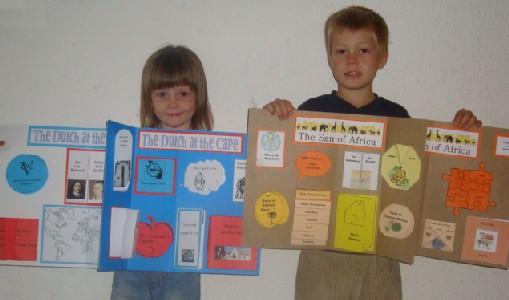 Kids with lapbooks
Lapbooks or mini-book projects enable children to work with small bits of information at a time. Even so, depending on the age and maturity of your child/ren, you will need to help and supervise the project considerably if you want it to look presentable on completion.
For younger children:
Be prepared to help them a lot - with cutting out, pasting and arranging the booklets on the file-folder. Preschool lapbooking is actually a joint-effort. Don't expect them to do it alone! Possibly you will even need to reprint some of the templates as they often have mishaps.
Encourage older siblings to help the younger children too.They can help with colouring in, cutting out and even writing where necessary.
For more advanced students, you can adapt a project as follows:
Help them to research the topic further using the internet, library or other resources that you may have.
Let them write longer narrations. You could add a pocket or an extra flap to the folder and store additional work there.
Create additional booklets in which they record more detailed information.
Be creative
Use the lapbook or file folder as the basic starting point of your project.
If you study a topic in depth, you could add photos of crafts or hands on projects that your students did, outings and field trips relating to the topic, photos of relevant places of interest.
Add brochures, souvenirs or objects from nature that you may have collected from places you visited.
Add book reviews of relevant books, fiction or reference books that you have read about the topic.
Add any drawings your child may have done.
Let the children decorate the file folder with glitter, gel pens, stickers, ribbons, embellishments, just about anything!
If you find out that there is something extra that you wish to add to the file, then do it! Add another flap. Flaps can be hinged to the top edge or the bottom edge as well. Be creative here also!
Feel free to re-arrange the booklets if necessary.
For preschool lapbooking projects that we have enjoyed go to Printable Crafts.
If lapbooking is new to you, you might want to begin by trying some of these free preschool lapbooks which are based on stories.
If you do, we would love to hear from you. You can upload pictures and Share Your Preschool Activities!



---