HOME
Preschool Homeschooling
Seasonal Themes
Preschool Skills
Preschool Activities
Preschool Articles
Preschool articles about a range of issues relating to living with preschool children and their development.
Play is the Work of Childhood - research indicates that FREE play is critical in childhood development and improves later learning abilities.
The Benefits of Preschool at Home
Two Essential Preschool Ingredients for College Success
Preschool Discipline - tips for effective training and instruction of little ones.
Protect Your Girls' Girlhood - a look at how our culture sexualises innocence!
Dogs and Children - tips to avoid dog bites and train kids and dogs to get along well.
Speech Delays - tips to detect them before its too late.
Healthy Kids Food - introduce gentle changes to your children's diet and establish healthy eating for life.
Revolutionary Kids Toothcare - there's much more to it than simply brushing!
Organizing Kids Stuff - how to keep toys, books, craft supplies etc. under control
Kids Clothing Tips - good ideas for buying wisely and storing kids clothes.
Preschool articles that will be published soon:
Developmental Delays
Cursive First - the benefits of teaching children to write cursive first
Better Late Than Early - multi-disciplinary research about early childhood
Parenting Book Reviews
This is a developing area of this website. If you have a suggestion for a topic that you would like to know more about, please contact Shirley.



ABC Fun & 1-2-3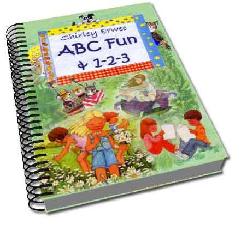 is a preschool programme that gives you
nursery rhymes
to learn each week, as well as a list of recommended,
quality children's stories
to read aloud together as you and your children adventure through the alphabet, one letter per week.
Gentle, age-appropriate activities and worksheets are included.
All the hard work is done for you, just open up the book and start building your child's communication skills for life!
Click here for more details: ABC Fun & 1-2-3
---