HOME
Preschool Homeschooling
Seasonal Themes
Preschool Skills
Preschool Activities
Preschool Apple Activity
Painted apple stamps are used to create a multi-sensory preschool apple activity.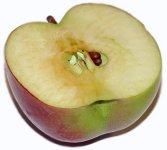 Five Rosy Apples - Apple Stamping



Use this painting activity along with the fall preschool nursery counting rhyme, Five Rosy Apples.



Five Rosy Apples

Five rosy apples by the cottage door,
One tumbled off a twig and then there were four.

Four rosy apples by the cottage door,
The farmer's wife took one and then there were three.

Three rosy apples by the cottage door,
I think I'll have one and then there'll be two.

Two rosy apples hanging in the sun,
You have the big one and that will leave one.

One rosy apple, soon it is gone.
The wind blew it off the branch and now there are none.



You will need
Half an apple for each child
Paint
Five Rosy Apples printable - one for each child
Art aprons and workspace protection eg.newspaper



Tip: Use a light coloured paint so that if it goes over the text, the verse will still be visible.





Activity

Demonstrate to the children how to dip the apple in paint and stamp it down on the page to decorate the edges of the poem.





Six fall crafts for kids including collage, two birdfeeders and environmental activities.



Find dozens of other preschool crafts listed in categories: painting, drawing, modelling and cutting and pasting activities.


---