HOME
Preschool Homeschooling
Seasonal Themes
Preschool Skills
Preschool Activities
Nursery Rhyme Games and Action Rhymes
Playing nursery rhyme games with words that rhyme helps to develop phonics skills for reading. Performing actions to preschool songs also develops gross motor skills and rhythm.
Nursery Rhyme Games with Words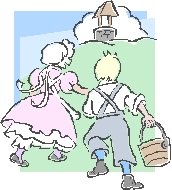 1. Ask your child to pick the odd non-rhyming word from a list of rhyming words that you say out loud. For example, cat, sat, mat, pot, rat, hat.
2. Play 'I spy' with rhyming words as clues. For example: "I spy with my little eye something that rhymes with mat." The child must guess that you are looking at the hat.
3. Say a nursery rhyme that your child knows, but leave out the rhyming word and ask him to fill in the word you miss. For example: You say, "Hickory dickory dock, the mouse ran up the ..." The child must say "clock".
4. Pick an object and see how many words you and your children can think of that rhyme with the name of the object. For example: Box - fox, locks, socks, rocks
For more nursery rhyme games, visit Little Kids Games Online - your guide to ideas for baby games, party games for young children and baby shower games, including reviews of quality online kids' games.
Rhythm Activities
Ask the children to tap the rhythm of a song, rhyme or poem. They can clap, tap with an object like a spoon, play on a drum, and shake a shaker (or a bottle filled with rice). Help them to identify the accented beats.
Tongue Twisters and Fun with Words
Peter Piper
Peter Piper picked a peck of pickled peppers
A peck of pickled peppers, Peter Piper picked.
If Peter Piper picked a peck of pickled peppers,
Where's the peck of pickled peppers Peter Piper picked?

Say these as fast as possible:
She sells sea shells on the seashore
Red lorry, yellow lorry
I scream
I scream, you scream,
We all scream for ice-cream!



Action Rhymes and Songs

I'm a Little Popcorn
Fishing for Jesus
Clap Handies
Rock-A-Bye-Baby
Ring-A-Ring-o'Rosies
I'm a Little Teapot
Teddy Bear, Teddy Bear
The Wheels on the Bus
Row, Row, Row your Boat
Soldier, Soldier Won't You Marry Me?
This is the Way the Ladies Ride
Girls and Boys, Come Out to Play
Here We Go Round the Mulberry Bush
The Grand Old Duke of York


I'm a Little Popcorn (tune of I'm a Little Teapot)

I'm a little popcorn in a pot (huddle in a ball)
Heat me up and watch me pop (jump up)
When I am all white I am done
Popping corn is lots of fun (jump around)




Fishing for Jesus, (clasp hands together and do casting action from shoulder downwards)
Fishing for Jesus, (repeat above)
Fishing for Jesus everyday (repeat above)
With a Bible and a prayer (open hands, like a book and then close as in prayer)
Nothing can compare (with palms down swing hands across over each other x2)
Fishing for Jesus everyday (clasp hands together and do casting action again)






Clap handies, clap handies for Daddy to come
Daddy's got sweeties and Mommy's got none.

Top of Nursery Rhyme Games



Rock-a-bye baby, on the tree top
When the wind blows, the cradle will rock
When the bough breaks, the cradle will fall
Down will come baby, cradle and all.




Ring-a-ring-o'rosies
A pocket full of posies
A-tishoo, a-tishoo
We all fall down.





I'm a little teapot
Short and stout
Here's my handle
Here's my spout
When I see the teacups
Hear me shout:
"Pick me up and pour me out!"

Top of Nursery Rhyme Games




Teddy bear, teddy bear
Turn around
Teddy bear, teddy bear
Touch the ground

Teddy bear, teddy bear
Climb the stairs
Teddy bear, teddy bear
Say your prayers

Teddy bear, teddy bear
Turn out the light
Teddy bear, teddy bear
Say good night





The wheels on the bus go round and round
Round and round, round and round
The wheels on the bus go round and round
All over town.

The moms on the bus go natter, natter, natter...etc
The kids on the bus go wriggle, wriggle, wriggle...etc
The grannies on the bus go knit, knit, knit ...etc


Top of Nursery Rhyme Games




Row, row, row your boat
Gently down the stream.
Merrily, merrily, merrily, merrily,
Life is but a dream


Two children sit facing each other, with legs slightly bent in front of them and their feet touching each other. Hold each other's hands and rock forwards and back in a rowing motion.




Soldier, Soldier, Won't You Marry Me?

Soldier, soldier, won't you marry me
With your musket, fife and drum?
Oh no sweet maid I cannot marry you
For I have no hat to put on.

So off she went to her grandfather's chest
And she brought him a hat of the very, very best,
And she brought him a hat of the very, very best,
And the soldier put it on!

Soldier, soldier, won't you marry me
With your musket, fife and drum?
Oh no sweet maid I cannot marry you
For I have no coat to put on.

So off she went to her grandfather's chest
And she brought him a coat of the very, very best,
And she brought him a coat of the very, very best,
And the soldier put it on!

Repeat for Boots
Final verse:
Oh no, sweet maid, I cannot marry you,
For I have a wife of my own!

Top of Nursery Rhyme Games




This is the Way the Ladies Ride

This is the way the ladies ride,
Nimble, nimble, nimble.
This is the way the gentlemen ride,
A gallop, a trot, a gallop a trot.
This is the way the farmers ride,
Joggety-jog, joggety-jog.
And when they come to a hedge - they jump over!
And when they come to a slippery space -
They scramble, scramble, scramble,
Tumble-down Dick!





Girls and Boys, Come Out to Play

Girls and boys come out to play
The moon is shining bright as day.
Leave your supper and leave your sleep,
And come with your playfellows in the street.
Come with a whoop and come with a call,
Come with a good will, or come not at all.
Come let us dance on the open green,
And she who holds longest shall be our queen.

Top of Nursery Rhyme Games




Here We Go Round the Mulberry Bush

Here we go round the mulberry bush
The mulberry bush, the mulberry bush
Here we go round the mulberry bush
On a cold and frosty morning.

This is the way we wash our clothes,
Wash our clothes, wash our clothes
This is the way we wash our clothes,
On a cold and frosty morning.





The Grand old Duke of York,
He had ten thousand men
He marched them up to the top of the hill
And he marched them down again.
When they were up, they were up
And when they were down, they were down
And when they were only halfway up
They were neither up nor down.


Top of Nursery Rhyme Games






More Pages Related to Nursery Rhyme Games
---