HOME
Preschool Homeschooling
Seasonal Themes
Preschool Skills
Preschool Activities
The Best Mother, the Best Preschool




As long as a child is young enough to need mothering, she needs her mom.




"How would you feel about taking home a different child every night?...Well, if you don't want any child but your own, why should he or she want any mother but you?"
Mary Pride, The Way Home

If daycare is better for children than staying home with Mommy, this means that total strangers make better parents than the child's natural parents!

The humanistic, pleasure-seeking, materialistic society in which we live today repeatedly broadcasts the messages that women need to find fulfillment and financial independence in the workplace and that paid caregivers make better parents than a child's own mother.

'They' also tell us that our babies need to become independent and that they need the stimulation of being with their age-mates or they will be lacking in social skills. However, the evidence continues to pile up that the role a mother plays in the life of her child during the first years of life has a crucial, lasting effect on her intelligence.

Consider the following media snippets:



Mothers May Have to Weigh Job VS Tot IQ
Joan Beck,
Chicago Tribune
, 11 April, 1978
...Newest bits of evidence linking a young child's intelligence with the quality of mothering and the amount of mental stimulation in the home comes from the Journal of Educational of Psychology ...Most important elements include the mother's involvement with the child, the verbal and emotional responsiveness of the mother and the provision of appropriate materials, this research shows.
Also important are opportunities for variety in daily routines, the avoidance of restrictions and punishment, and the organization of learning opportunities in the home. These finding on the effects of early learning and mothering back up other continuing studies on babies and toddlers at Harvard and elsewhere. All show consistently that intelligence, competence and creativity develop best when a young child has plenty of stimulating things to do and a mother nearby to keep feeding him appropriate words almost continually.
Research Indicates Adverse Effects of Daycare, Preschool
Jim Brown,
Agape Press
, November 14, 2005
Two new studies indicate parents might want to reconsider sending their children to daycare or preschool. In one study, Stanford University and University of California researchers found that children who spend more than six hours a day in center-based care outside the home showed poor social skills.,/p>
According to the researchers, the children in the investigation showed "diminished levels of cooperation, sharing, motivated engagement in classroom tasks, and greater aggression.
And in another study, this one conducted by the National Institute of Child Health and Human Development, a researcher found that kids who spent long hours in daycare and preschool exhibited "poorer work habits and poorer social skills through third grade." These children, according to the study, tended more than others to have trouble concentrating and completing their school work.
The Universal Preschool reports:
"
Children who have been in extended daycare and preschool programs have:
Poorer work habits
Inferior peer relationships
Substandard emotional health
Lower grades and standardized test scores
And are more difficult to discipline.
If the young child develops best at home, then it is the greater loss for him, and ultimately society, if he is sent elsewhere." Raymond & Dorothy Moore, Better Late Than Early
In fact, Mary Eberstadt, research fellow at Stanford University's Hoover Institution, offers hard evidence of this phenomenon in her book, Home Alone America, and warns that institutionalizing young children can damage them psychologically, emotionally, socially and physically. That damage to children extends to the society at large."
(www.universalpreschool.com)
Day Care Deception: What The Child Care Establishment Isn't Telling Us
According to the author, Brian C. Robertson, the most significant evidence of the harmful effects of day care is "the drastically elevated incidence of infectious diseases."
One study showed that infants in day care have twice the rate of inner ear infections as infants raised at home. The incidence of respiratory illness is 100% higher for infants and 25% to 50% higher for older preschoolers.
A prominent medical researcher said that day care is "responsible for outbreaks of...diarrhea, dysentery...reminiscent of the pre-sanitation days of the seventeenth century."
(http://www.intellectualconservative.com/article2685.html, retrieved on 07/07/2011)
Who is Best? A Day Mother or You?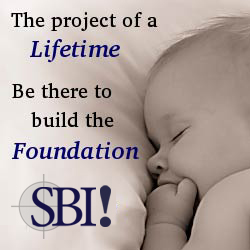 The Bible tells us that "God sets the lonely in families." Psalm 68:8.
As long as a child is young enough to need mothering, she needs her mother.
Two studies by Dr Sylvia Bell of John Hopkin University concluded that "the closer and better the quality of the mother-child relationshjip was, the greater the ability of the child was to learn."
"Even the best, most humane and personalized day-care environment cannot compensate for the feeling of rejection which the young child unconsciously senses when he is unnecessarily sent away from home for care by others." Martin Engel, former director of the US National Demonstration Center for Early Childhood Education (DCE) in Washington, D.C.
Dr Jack Raskins, psychiatrist at the University of Washington, Seattle says: "The key is the child's close, unbroken attachment in the early months is to the people who care for him. Too much disruption of this imbeds in the personality traits that can be disruptive for a lifetime.
People are hyped up over adolescent drug abuse, pregnancies, suicide and the cults children join. But the same roots underlie them all. The roots are depression and emotional deprivation. These are laid down in the personality in the early months of life. They grow out of poor attachments and inadequate affection and contact for the child in the first months. Attachment to the people who love him and who respond to his needs is nothing less than the foundation of the child's personality."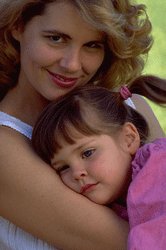 Ann Robinson, a mother, pastor's wife and author of Mothers Teach Your Babies and Toddlers the Bible (aka Babies Bible Class) writes: "The statistics on teenage suicide, depression, drug and alcohol abuse, pregnancies and promiscuity tell a sad tale about the lack of that desperately needed emotional bond.
Experts agree that as much as 85% of a child's character traits or personality is developed by the age of five. At the age of about two, when a child's will becomes assertive, it is crucial that it be shaped by continually teaching obedience, submission to authority, control of temper tantrums, sharing of toys, love and forgiveness, resolving conflicts and developing sensitivity to others.
The way a child is raised in the early years accounts for at least twenty points of his IQ. Emotional stability from loving secure relationships related directly to intellectual capabilities."

Would mothers of very young children be willing to work full time outside the home if they knew it could lower their youngsters' intelligence measurably?
Tim la Haye, says in his book The Battle for the Family: "I predict that this trend will produce millions of future adults who have problems with self-image, emotional security, depression, and hostility - a high price to pay for working, unless it is absolutely necessary."

To go back to the opening question:
Should your child have any other mother but you?
I hope by now, you will have agreed that staying at home with you, rather than attending preschool or daycare is the best option for your child, now what about YOU?



Stay-at-Home-Mom?
Does staying at home seem like a hard decision to make?
Are you afraid of losing part of your identity, your salary, your independence, your second car or having to move to a cheaper neighbourhood?
Does staying at home sound boring and less stimulating than an outside career?
Do you fear you won't have the patience required to be with your child/ren all day? (Do you really think that an overworked and underpaid caregiver will be more patient and loving than you?)
Is the potential damage to your child's self-image and emotional development worth it? And what about the guilt you will carry now that you know the effects of a mom's career on a child?
Or, in your mind, does SAHM still spell SLAVE and does JOB spell FREEDOM?

"Feminists have foolishly claimed that woman's role as a homeworker is the result of male patriarchal bias. The opposite is true. Non-Christian male patriarchal societies have always enslaved women outside the home."
Mary Pride, The Way Home
I know that many married women say they HAVE to work, but do they really? I think many just can't stand picturing themselves as 'just a mom' with no other job description, no paycheck, no independence, no economic or social status and very little respect from society in general. Motherhood is hardly considered a glamorous career, yet it is a highly challenging and rewarding vocation.
"We make a living by what we get, but we make a life by what we give."
Sir Winston Churchill
"We must wake up and look ten or twenty years into the future. What will we wish then that we had done today? Many mothers over forty hanker for another baby - because their nest emptied too soon. They experience regrets for letting years with their children pass by without savouring them to the full."
Ann Robinson, Mothers Teach Your Babies and Toddlers the Bible.
The Bible has the ideal option. Titus 2:4-5 says that younger women are "to love their husbands and children, to be self-controlled and pure, to be busy at home..."
It is not a question of whether wives work, but where we work!


Be Your Child's Teacher
Once you enter the season of motherhood, you become a teacher. This is one of your primary tasks and God has chosen you to be the mother for your little one. You are the right instructor for your child. Even though you may feel inexperienced in this field and ill-equipped, God has chosen you to be your child's parent, teacher and life-coach. As you take on this role, you will soon realise that you also need to take on the role of student.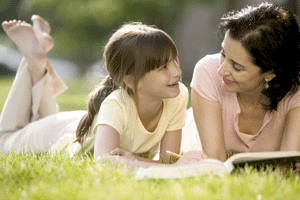 You are probably a young amateur parent and so you need to learn as much as you can about what you are required to do in this season of life. Not only do you need to learn about early childhood development and education, but you also need on-the-job training in patience, compassion gentleness, kindness and don't forget self-control!
Like many other stay-at-home-moms, you are bound to find studying this relevant and much needed subject matter stimulating, rewarding and beneficial to both your and your child/ren.
The information, free e-zine and other resources on this website are intended to help you and equip you for this high calling.
It goes without saying that a SAHM is also a Work-at-Home-Mom (WAHM) in charge of home management. Most job-holding wives are too, only they do it part-time, after hours.


Be Your Own Boss
I have Good News. There is more to staying at home than just doing laundry and scrubbing bathrooms! There is a way that you can be a full time mom without sacrificing your self-worth, your need for mental stimulation and your need for fulfillment, but this work-at-home-mom option also needs careful consideration as it is also presents a cost to you and your family. The pros and cons must be weighed.
You could start a home-based business . With the birth of the internet, this option is becoming easier and easier and it presents some exciting options for a creative and determined woman wishing to contribute to the family finances and to use her gifts and talents . BUT, first you need to decide to do what is best for your child, no matter the cost.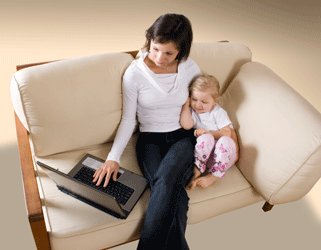 Will you be your child's daymother, as well as her night-time Mommy?
Henry Ward Beecher said: "The mother's heart is the child's schoolroom."
So where is your heart?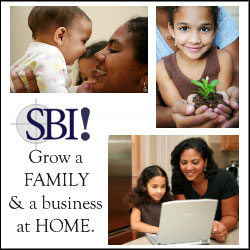 Parenting and Homeschooling Articles
Homeschooling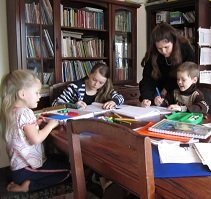 Parenting





---