HOME
Preschool Homeschooling
Seasonal Themes
Preschool Skills
Preschool Activities
Leaf Craft
Help your kids make a translucent mobile with this fall leaf craft.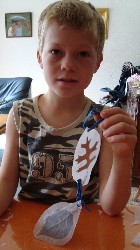 Go for a nature walk and collect an interesting assortment of leaves. Let your children place them in a zip lock bag to keep them safe while you are out.

Try to find a variety of different shapes and sizes, simple and compound leaves.

Thin, flattish leaves are best for this project, rather than thick, juicy leaves!

Leaves that have fallen and partially dried out will iron best. Alternatively, use pressed leaves for this project.

This project needs plenty of adult help, but the children will be delighted with the end-product.


Make a Leaf Mobile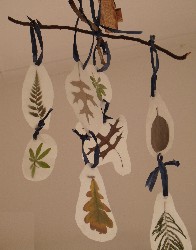 You will need
A variety of different shaped leaves
Two equal sized twigs
Raffia, ribbon, fishing line, string or thread (we used raffia)
A roll of wax paper
Scissors
Punch
Warm iron and ironing board to be used by ADULTS ONLY

Method

1. Make a cross with the two twigs and tie them together at the centre.
2. Arrange a few leaves at a time on the wax paper and cover it with another piece of wax paper.
3. Iron the wax paper so that the wax melts and the two layers stick together with the leaves inbetween.
4. Let the children cut around the leaf shapes leaving a border of wax paper.
5. Punch a hole in the paper around each leaf help the children insert the raffia, ribbon, thread or fishing line and tie the ends.
6. Hang two leaves together as shown in the photo.
7. Hang your leaves from the twigs and then suspend your mobile in a well-lit position so that the light will catch it.

Variation - add pressed flowers, berry clusters or small cones to your fall leaf mobile.


Activities Related to Leaf Craft

Fall / Autumn Songs and Nursery Rhyme Activities
Add these fall preschool nursery tunes with free printable activities to your fall preschool theme.



Six fall crafts for kids including collage, two birdfeeders and environmental activities.



Find dozens of other preschool crafts listed in categories: painting, drawing, modelling and cutting and pasting activities.




Recipes for pumpkin fritters, butternut soup and easy apple crumble to warm you up this season!

---