HOME
Preschool Homeschooling
Seasonal Themes
Preschool Skills
Preschool Activities
Kids Clothing
Tips for buying and storing kids clothing.
As your kids grow, you'll find that the amount of clothing you have to deal with also increases. Not only does keeping up with the laundry require some effort, but keeping clothing from over-running the home can also become a challenge!
Somehow shoes, odd socks, sweaters, hats and all manner of unmentionable items start popping up in unexpected places!
Below are some tips that might reduce the energy you spend keeping the clothing monster under control.
Choosing Kids Clothes
These are some of the criteria that I use when buying kids clothing. Of course, I don't always stick to all of them, but I try to.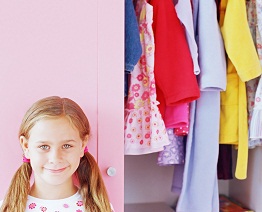 Choose dark colours that hide stains, especially for pants.
Choose fabrics that won't need much (if any) ironing.
Select clothes that the kids can easily put on alone - elasticised pants and no-button tops.
For very young ones, buy shoes that fasten with velcro instead of laces or buckles.
One finger should fit tightly behind the child's heel to allow some growing room in new shoes.
The following is a handy guide for what children may need in terms of clothing:
7 outfits and 2 smart outfits for special events:
Underwear for a week (at the most)
Socks for a week - all the same colour to match the odds
3 pairs of jeans or long pants
5 pairs of shorts
2 sweaters
2 everyday dresses for girls
7 T-shirts or long-sleeved tops (depending on the season)
1 winter coat or jacket
a few outfits for hard play time outdoors
2 smart outfits
2 pairs of pygamas or nightgowns per season
2 pairs of shoes per season (sandals, sneakers, boots)
All of this should take up no more than one or two shelves or drawers. The less there is the less there is to keep tidy.
Storing Kids Clothing
Clothes you are keeping for younger siblings should be stored separately in boxes or baskets that are labeled by age/size and gender.
Store clothing in containers that can 'breathe' to prevent them getting musty.
Place left over (or new) cakes of soap among the clothes to keep fishmoths away.
To keep the volume of clothes you store under control, use the following guidelines:
Try to keep only one container for each age/size.
Only keep a few sentimental favorites.
Keep only the best, clothes that are good quality, not stained or damaged in any way.
When given second-hand clothes, sort through them using the same criteria and pass on what you won't use.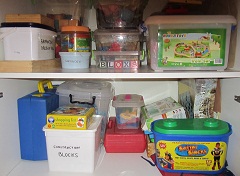 Ideas to organize and store kids toys, books and craft materials.

Toys for Early Child Development
A carefully-chosen selection of toys for each age group to create a 'earning environment in your home. Use this as a wishlist for gifts for birthdays.
Share Your Organized Kids Stuff Tips
If you have a secret that can help others with storing or organizing kids stuff, please upload a picture or two and share your ideas. Use the form below.
Have A Good Preschool Idea to Share?
Perhaps you have an activity to develop certain preschool skills, or to encourage art or music appreciation, concentration or listening skills.

Whatever the category, share your idea here along with a good, clear photo, to show it, if you can.

NOTE: Submissions that are too short, (less than about 10 sentences) may not be published, so give a good explanation. It can rather be edited and shortened if it is too long! 250 words, or more, is the ideal length!
---