HOME
Preschool Homeschooling
Seasonal Themes
Preschool Skills
Preschool Activities
Homeschooling? How Do I Cope?
Answers to common questions about how to cope with homeschooling a large family with a baby and a home business.
I am often asked how I cope with the demands of homeschooling four older children with baby, as well as managing my home and my home businesses.
Here are some replies to questions I received by email:

Updated 2011
Reading your email today, I was reminded that you're a mommy of 6! May I ask what that's like? I've been so broody for another baby, but am scared that 3 is too much for me to handle, never mind 6.

The Word says that children are a blessing (unlike the world that see them as liabilities)...and I believe that God has given us moms that desire or broodiness for babies for a reason.

I believe that God gives us the grace and capacity to cope with what we have when we need it. I could not have coped with homeschooling 6 when I had 2, but I didn't need to! In His wisdom he gives them to us one at a time so that we can adapt and learn to cope with the demands.

There is a saying that says: God does not call the equipped, but he equips the called. He has called us to be moms and homemakers and will equip us to do that. As he blesses us with children He also provides for those children's needs.


How do things change with each new arrival?

One big factor that people seem to disregard is that the other children don't stay small - they grow into Mommy's little helpers. Having two tiny tots is much harder than having the 6 I have now, because with 2 little ones the (inexperienced) mom has to do it all alone. I have help!


How do you manage to homeschool five with a baby?
I tend not to be a schedule person when it comes to my babies. I demand feed and let them sleep whenever they want to for as long as they want to. ...so if baby is awake I usually sit and read to the others while I feed him. My older three do much of their homeschooling work alone, except the reading aloud which we do together. They just ask for help when they needs it. The other two are only 6 and 4, so they play as much as they like and do 'school' as much as they choose. They are always around us, so they learn a lot very informally.
The lack of a feeding schedule/sleeping schedule makes it difficult for me to do anything without lugging baby along, which is the sacrifice I have to make. I can't make plans for anything at a certain time when baby will be asleep, because it is not always a set time...and for the same reason I can't be involved in much activity outside the home... we have to sacrifice for a season, especially if we are homeschooling.
We also never keep quiet to accommodate a sleeping baby. From birth the baby sleeps wherever we are in the babywrap on me, in the carrycot or pram. I figure that for 9 months in the womb the baby heard all the noise of our busy homeschooling life, so why be quiet now!
Other logistics that we cope with:
I now do laundry every single day, sometimes more than one load a day, but I am training my eldest daughter to take over this job completely. (I try to buy clothes that don't need much ironing and I do have hired help three times a week.)
I have had to become better at meal planning as you well know by now [I published two e-books/menu planners:
Prepared to Cook and A Joy to Cook] and I often cook double quantities so that I can quickly defrost a meal if there is a crisis near supper time...like we get home late or baby is cranky and needs a feed when I should be cooking! The children are also learning to cook and the eldest two each have at least one meal they can cook alone.
Training children in good habits and discipline is ongoing, whether there are 1, 2 or 6 and whether you are homeschooling or not. It remains challenging....and as you probably know, self-discipline on the mom's part is where it begins!
Also read Homeschooling with Babies and Toddlers


I'd love to hear from you what it's like, as well as how you cope with homeschooling and make it work.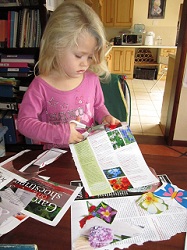 There are days where we do a little (school-wise) and days when we do a lot. I use a weekly planner for each child to make sure we keep on track, more or less.

Learning that this is not "school at home" and that neat classroom hours don't always apply in our home has set me free of a lot of guilt. Often we do scheduled reading together in the evening, if it didn't get done during the morning.

I just have to make the most of every opportunity that presents itself and do my best to be diligent...I think that's the bottom line - in our homeschooling we have to be diligent to do what we believe God has called us to do and not compare with others...otherwise we fall into the trap of Am I Doing Enough?


Where do you find the time to write homeschooling materials and maintain a website?

These are things that I do because I love to do it, so like anything you love, somehow you just find the time to squeeze it into your day. If it did not give me pleasure, I wouldn't do it.

(Find out how you can share what you love and become a work-at-home-mom too.)

Generally, I work in the evenings after my children have gone to bed, but you will catch me at my computer often during the day too, answering emails, doing online ordering and banking etc. Some days it is a struggle to limit the time I spend here (at the pc) and sometimes it is my escape to the adult world!

Since my husband works from home, we see each other often enough, so he doesn't mind me spending time working in the evenings. It also gives him time to unwind and do what he enjoys, without feeling guilty!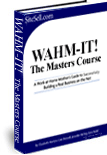 Take the free Work at Home Moms Masters Course and in about 20 minutes you'll see how easily you could do it too!


Parenting and Homeschooling Articles
Homeschooling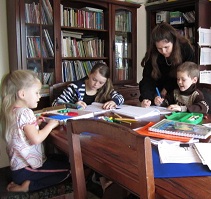 Parenting





---