HOME
Preschool Homeschooling
Seasonal Themes
Preschool Skills
Preschool Activities
Glitter Collage Craft
Use this starry night glitter collage as part of a study of the solar system for your preschool space theme.
Children love the brilliance of glitter and its interesting texture. This easy kids craft gives them an opportunity to enjoy working with this interesting medium.
Since glitter spills and messes easily, be sure to supervise closely.
Starry Night Glitter Craft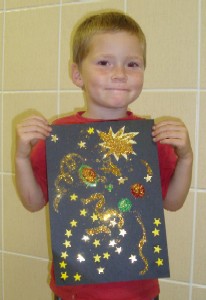 You will need

1 piece black paper or card per child
glitter
glue stick
star stickers
scraps of metallic paper
a large sheet of paper or newspaper



Method

1. Create a sun and planets from the metallic paper and help your child to stick them on the black paper.
2. Let him decorate the page with stars.
3. Show him how to spread the glue stick in swirls where he wants glitter to stick.
4. Sprinkle the glitter over the glue, then shake off the excess onto a large sheet of paper. In this way you can funnel it back into the container and re-use it.





Variations

You could also use glitter glue pens, milky pens, space theme stickers, sequins or other shiny 'sprinkles' to decorate your starry night collage.




Practical art and crafts projects for kids, teachers and parents including painting, drawing, cutting, pasting, modeling and construction activities.

Create a mural of all the planets, showing their size relative to each other and to the sun to add to your preschool space theme.
Share Preschool Theme Ideas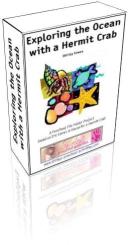 Try some of these tried and tested Preschool Theme Ideas which have been submitted by other visitors to this website.

You are invited to submit your own ideas, along with a photo and in return you will receive a free Ocean Theme Lapbook project pack as your thank you gift.



---