HOME
Preschool Homeschooling
Seasonal Themes
Preschool Skills
Preschool Activities
Free Printable Ostrich
Use this free printable ostrich to create a poster using children's handprints. It is deal for a preschool theme about Africa or birds.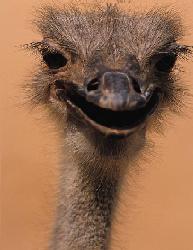 Ostrich Facts
The ostrich is the world's biggest bird. Ostriches are indigenous to Africa.

Ostriches are too heavy to fly, but they can run very fast (up to 40 miles or 65km per hour).

Ostriches have long legs and necks. The kick of an ostrich can cause serious injury or even death.

Ostriches usually weigh from 93 to 130 kg (200 to 285 lb) and at maturity are 1.8 and 2.7 m (6 and 9 ft) in height.

The male birds have mainly black feathers and the females are mostly grey in colour. Their feathers are used to make feather dusters and are also used to decorate hats and other fashion accessories like stoles and boas.

Ostriches lay clutches of eggs. An ostrich egg is about the equivalent of about 24 hen's eggs.
Free Printable Ostrich Poster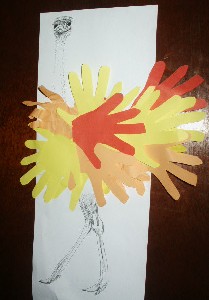 You will need
Brown or coloured paper
Pencil
Paint (optional)
Scissors
Tape
Glue
Printable ostrich template (download)


Method

1. Draw outlines of your children's hands on coloured paper. If you have only one child, or a few, cut multiple hand shapes simultaneously by placing a few sheets of paper together.
(Alternatively, let your children dip their hands in paint and make handprints on brown or coloured paper.)
2. Cut out the handprints. These will be the 'feathers' of the ostrich.
3. Join the two parts of the free printable ostrich template together with tape. Alternatively, cut them out and glue them onto a large poster board.
4. Arrange the 'feathers' and stick them down with glue.


More Cutting and Pasting Activities
Let your children experience the textures of different mediums and practice fine motor skills, like cutting and pasting. Tearing is also a good activity for developing fine motor skills.


Enjoy this collection of printable crafts, including an alphabet coloring book, space science theme, preschool ocean theme mural, story-based lapbooks for children and other easy crafts for kids.
---