HOME
Preschool Homeschooling
Seasonal Themes
Preschool Skills
Preschool Activities
Pre-paid Free Gift

I know its not related to preschool activities - but I can't resist using my site to share this message - and its free!
Prepaid Free Gift
This free gift has already been pre-paid by someone else on your behalf.


This offer could change your life. There is no catch!
The free gift of Eternal Life includes:
A clean slate - all past sins forgiven
Peace that passes all understanding
Joy unspeakable
The companionship of a friend who sticks closer than a brother
A personal counselor and life-coach who is always available

Maybe you were expecting something more tangible, but this is a gift that will not gather dust, perish, rust or rot.
So, how do YOU receive this special free gift?
There are a few things you need to understand about the One offering you this free gift.
There is only ONE thing that you need to do. If anyone is telling you anything else that you are supposed to do, then they are placing their religious laws and burdens on you.
What you need to do is believe that Jesus died for your sins to be forgiven, believe that he loves you unconditionally and has a personal interest in your life and wants an intimate and ongoing relationship with you from now on.
Then live in this relationship. Live in the freedom that Jesus has given you.

1. God loves you and has a wonderful plan for your life. He created you and longs to have a relationship with you. He loves you more than you can ever imagine! Jesus said, "For God so loved the world, that he gave his one and only Son, that whoever believes in him shall not perish, but have eternal life." (John 3:16)
I know it sounds pretty cliche' but I assure you it is true. He loves you more than you can imagine. And He doesn't just love "good people". Do you know what? He loves even the WORST of the "bad people" too. The Bible tells us that "...God demonstrates his love toward us: While we were still sinners, Christ died for us." (Romans 5:8)

2. God is a holy God and our sin separates us from intimacy with Him. A sin is anything we do, say or think that displeases God. We are all sinners - not a one of us can ever be good enough for God's holiness. Sin is not just something that "bad" people do. Sin is in the nature of everyone! Even you; Even me! "For all have sinned, and fall short of the glory of God." (Romans 3:23)
Too often people stop listening at this point. No one likes to be told they will never be good enough. Sounds depressing, doesn't it?
Too many of us have been told during the course of our lives that we are not good enough and so we stop trying to please people who are never satisfied with our efforts. Many people also falsely assume that we can never please God, so they stop trying and live instead for their own pleasures, they live for the here and now.

3. God has made a way for us to be good enough. This is the wonderful Good News, this is His free gift:
If we believe that Jesus died to pay for our sins, then our sins are washed away and we are stamped with the seal of approval that says that we are good enough! It is that simple, all you have to do is to ditch your pride and admit to God (and yourself) that you are a sinner, that you are not good enough, and can never be in your own strength. Then the Lord can work in your life.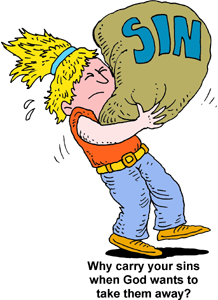 God loves us so much that He sent His Son Jesus to be born, to die on the cross as payment for our sins, and to be raised up from the dead. Jesus paid the debt we owed God with His own blood, so that we could be free from our sin.
"For you know that it was not with perishable things such as silver or gold that you were redeemed from the empty way of life handed down to you from your forefathers, but with the precious blood of Christ, as of a lamb without blemish or defect." (1 Peter 1:19, emphasis mine)
"You were bought at a price." (1 Corinthians 7:13)
"God made him who had no sin to be sin for us, so that in him we might become the righteousness of God." (2 Corinthinas 5:21)


4. You have to claim your free gift: By putting our trust in Jesus alone and what He did for us on the cross, we can have eternal life.
"...if you confess with your mouth, "Jesus is Lord," and believe in your heart that God raise him from the dead, you will be saved. For it is with your heart that you believe and are justified, and it is with your mouth that you confess and are saved." (Romans 10:9-10)
We can become children of God!
"But as many as received him, to them gave he power to become the sons of God, even to them that believe on his name." (John 1:12)
On the day that He was crucified, Jesus, who was fully God and fully man, and who lived a sinless life, having not been born with a sinful nature, died for us - in our place. God said, "Shirley has earned death," (that is the wage of sin), and Jesus said, "Father, I will die in her place so she can have a chance to be with us in heaven."
What amazes me, is that this was quite a gamble because He chose to die for you, and me and all mankind, even knowing many may reject his free gift to us! He loves us that much!
"Yet to all who received him, to those who believed in his name, he gave the right to become children of God." (John 1:12)
Jesus said:"I tell you the truth, whoever hears my word and believes him who sent me has eternal life and will not be condemned." (John 5:24)



How do you receive this free gift?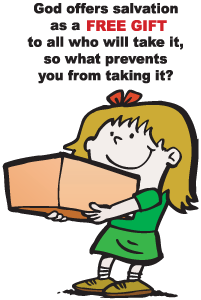 If you believe Jesus died to save you, trust in Him to cleanse you from sin, and bring you into right standing ("righteousness" is another word for that) with God. Pray to God in your own words. Confess that you are a sinner, and ask Jesus to come in and cleanse you from sin. Thank Him for what He did for you. Thank Him for the free gift of forgiveness from sin and eternal life. Now believe that He has done it. This is the beginning of a walk of faith.

"Though you have not seen him [Jesus], you love him; and even though you do not see him now, you believe in him and are filled with an inexpressible and glorious joy..." (1 Peter 1:8)

Now, don't expect that once you have accepted the Lord into your life, that it will all be plain sailing. Your problems won't magically melt away! We live in a fallen, sinful world and so we will still encounter difficulties, struggles, hurts and even pain. But with God as our Counselor, we can endure these things and not be overcome by them. He promises that He will never leave us nor forsake us. You need to learn all you can about God and his wonderful promises to us, when we are in a personal relationship with Him so that you can live your life victoriously.

"But my righteous one will live by faith..." (Hebrews 10:38)

"Now faith is being sure of what we hope for and certain of what we do not see." (Hebrews 11:1)



Clipart images by ChristArt.com


---