HOME
Preschool Homeschooling
Seasonal Themes
Preschool Skills
Preschool Activities
France Preschool Theme
Use this France Preschool Theme on your around the world exploration with your preschoolers.

Around the World Preschool Theme
Introduce your children to countries, people and cultures from around the world. This is a list of lesson plans for each country, which include activities, crafts, recipes, coloring pages, story books and more.

Before you embark on your 'armchair' journey around the globe, introduce your children to 'the world' using these easy tips.



Mapwork - France
Locate France on a map of the world or a globe.

Remind your children of the names of the continents they have already learned about so far and point to each one. Show them where you live.

Let your children colour in the printable map of France provided in the France Preschool Printables

Let them stick a star or dot sticker on the map to mark the capital city of Paris.

Paris is the capital and largest city of France, situated on the river Seine, in northern France, at the heart of the Ile-de-France region.



Flag of France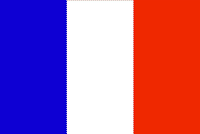 The French flag is a tricolour of vertical bands of equal width of blue, white and red.

Let your children colour the printable flag of France provided in the France Preschool Theme Printables








French Language
The language spoken in France is French.
Ask your children if they perhaps already know some of the following French words that are used in English:
Blonde
Brunette
Bon appetit
Bon voyage
Ballet
Garage
Petite
Art
Collage
Machine
Corduroy

Now let them try these everyday French phrases:
Good day - Bonjour
Hi! - Salut! (the letter t is silent)
Thank you - Merci
Thank you very much - Merci beaucoup
Good evening - Bonsoir
Good night - Bonne nuit
Come here - Viens ici

French Cuisine
Enjoy some of the following French foods together.
French confectionary - croissants or any other
French baguette - make sub sandwiches or bake your own French loaf using this recipe: http://allrecipes.com/Recipe/French-Baguettes/Detail.aspx
French cheeses - camembert, brie, Roquefort
You could combine all of the above and pack a picnic basket and go out to enjoy a French-style picnic, with sparkling grape juice (champagne) to wash it all down. Bon appetit!



The Eiffel Tower
The Eiffel Tower is an iron lattice tower located on the Champ de Mars in Paris that has become both a global icon of France and Paris.

The Eiffel Tower, which is the tallest building in Paris, was designed by an engineer, Gustave Eiffel, as the entrance arch for the 1889 World's Fair.

The tower stands 324 m (1,063 ft) tall, about the same height as an 81-story building.

Take a look at the model of the Eiffel Tower that one of this site's visitors submitted, made by her daughter, age 6. France Preschool Activity





Children's Books about France
Books for older children
DVD
France Preschool Theme Ideas?
Add to the activities on this page by sharing your ideas for a French preschool theme.
Tell us about the books you've read, crafts, recipes or other activities you've enjoyed with your children.
Pictures speak volumes, so please upload some photos too and give as much explanation and instructions as you can, so that others can do it too.
Submissions of 250 words or more would be ideal!
Do you have ideas to share on this theme?
Do you have an Around the World idea, activity or resources to share? It will take you a few minutes to submit it below.

To thank you for your contribution, you will receive a free copy of my Ocean Theme Lapbook.
What Other Visitors Have Said
Click below to see contributions from other visitors to this page...

france

We studied France using the book Madeline by Ludwig Bemelmans. We built mini Eiffel towers from hard card stock, dressed in French clothes, ate French …
French Ideas Not rated yet
I am fluent in French as are my children. I found a book named after my son, which is a commonly spoken name in Europe and a common song for preschool …
---