HOME
Preschool Homeschooling
Seasonal Themes
Preschool Skills
Preschool Activities
Fathers Day Poems
Free Fathers Day poems for you to use in cards or on pictures for Fathers' Day.
Other Father's Day Pages
Father's Day History

Printable Poem Activity - Daddy, I Love You poem to decorate with a photo, work of art or handprint to create a gift to display.

Father's Love Letter Greeting Card - a beautiful free printable card with a Christian Bible-based poem. This greeting card can be used for Father's Day or any other occasion too - for grandparents, relatives, friends, everybody!




The following free Fathers Day poems are copyright by Nicholas Gordon but you may use them for any personal or non-commercial purpose.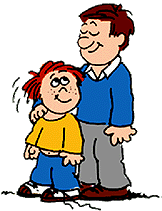 Daddy, I love you

Daddy, I love you
For all that you do.
I'll kiss you and hug you
'Cause you love me, too.
You feed me and need me
To teach you to play,
So smile 'cause I love you
On this Father's Day.


~Nicholas Gordon~





Hands are a bond between father and son

Hands are a bond between father and son,
A tool that one teaches the other to use,
Needing to pass on the passion, or lose
Doing what long generations have done:
Sowing the seeds of what they have begun.


~Nicholas Gordon~

Top of Fathers Day Poems


You are our knight in shining armor

You are our knight in shining armor,
Pilgrim of our plea,
The Atlas for our wounded world,
Our rescuer at sea.
You are the pillar of our hopes,
The deep bass of our song,
The strength that underlies our strength,
The calm for which we long.
You came into our house of dreams
And turned it into truth,
Entering at just the point
Where yearning shatters youth.
What could motivate someone
To bear another's load
But that most beautiful of lights,
The inner lamp of love.


~Nicholas Gordon~


You taught me how to love you

You taught me how to love you by
The way that you loved me;
And by your unseen sustenance,
To see what you could see.
You gave to me through who you were
The gift of what I am.
Your pride in me is now my pride;
Your faith, my caravan.
Your life does not conclude with death,
Nor will it end with mine,
For all the lives I touch, you touch,
And so on through all time.


~Nicholas Gordon~

Top of Fathers Day Poems


You've been everything to me

You've been everything to me: a father,
Teacher, playmate, model, conscience, friend.
Sometimes I'm not certain why you bother,
If your feelings on my words depend.
I know I haven't been the child I should:
Far from it, and I really can't say why.
I know exactly what I'd label good,
But in the real world something goes awry.
Underneath my actions there is love,
Gratitude, respect, and admiration.
Sometimes I don't know what I'm thinking of,
But I thank God you're in for the duration.
I'm sorry, sorry for the things I do,
But please believe I cherish Mom and you.

~Nicholas Gordon~

Top of Fathers Day Poems


I do not see you often

I do not see you often, but
I see you every day.
I've taken you along with me
As I have grown away.
We talk about the things that fill
A life with love and pain,
But our timeless golden time,
Unspoken, still remains.
You will always be my dad,
And I, your darling daughter.
The days may turn like waterwheels,
But that will never change.
The thought of you will make me glad
No matter where I wander.
You are the place that cannot feel
Uncanny, dark, or strange.


~Nicholas Gordon~




Fathers need not fathers be

Fathers need not fathers be.
All one needs to do is choose
To love for life, and that embrace,
Held long and hard, bestows the grace
Each craves. For all in time must lose,
Restored alone by memory.
So now it is with you and me.

~Nicholas Gordon~

Top of Fathers Day Poems


Fathers can be solitary mountains

Fathers can be solitary mountains,
All their love rock-like, steep, and strong.
Though warm and caring, somehow they belong
Halfway home to mothers' bubbling fountains.
Each of us needs love that knows no quarter,
Reminding us of bonds that cross a border,
Strengthening our sense of right and wrong.


~Nicholas Gordon~





Grandfathers are fathers who are grand

Grandfathers are fathers who are grand
Restoring the sense that our most precious things
Are those that do not change much over time.
No love of childhood is more sublime,
Demanding little, giving on demand,
Far more inclined than most to grant the wings
Allowing us to reach enchanted lands.
Though grandfathers must serve as second fathers,
Helping out with young and restless hearts,
Each has all the patience wisdom brings,
Remembering our passions more than others,
Soothing us with old and well-honed arts.


~ Nicholas Gordon~

Top of Fathers Day Poems


---