England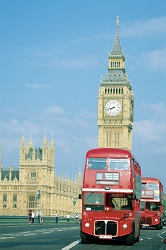 London Bus with Big Ben behind
I am a pre-k teacher from England, living in the USA.

We made a poster of Buckingham Palace, the guards, Big Ben, London bus, we also learned some new words!

mate = friend
loo = toilet
brekky = breakfast

and we tasted various foods that I made/bought from the world market.

We also made a flag and a London bus.
We dressed up as kings and queens.
Join in and write your own page! It's easy to do. How? Simply click here to return to Submit Your Around the World Preschool Theme.
---