HOME
Preschool Homeschooling
Seasonal Themes
Preschool Skills
Preschool Activities
Am I Doing Enough?
Every homeschooling parent wonders if she is doing enough at some stage in her homeschooling journey.
I can't answer the question for you, but I can show you how to find the answer. However, let us look at why we ask this question:

1. We compare our home with the school system. We know that school-going children spend longer hours in school and in many cases, have a large variety of extra-mural activities to choose from and so we wonder if our children are not perhaps missing out and we ask: Am I doing enough?

2. We hear about the wonderful variety of subjects and activities that other home educators and their children are pursuing. We hear about their outstanding progress or performance and then we wonder if our children should be doing the same and we ask: Am I doing enough?

3. We have our own ideas of what we expect to achieve with our children but in reality we may not get the results we hoped for and so we ask: Am I doing enough?

We need to realise that each of our homes is unique. Our family structure is unique, the personalities and capabilities of each child are unique, the amount of other work required in the home is unique, the opportunities available in our environment, our time and financial constraints are unique.

There will always be someone or some family who appears to be doing bigger and better things than you. But consider the following:


a) Given your set of circumstances, would they achieve the same?
b) If you were in their shoes, could you perhaps do better, or at least the same?


Regardless of the answer to these two questions, we should remember that God has not called us to compete with others or to measure up to their standards.

Considering all these and a whole myriad of other factors that affect the way we educate our children, we should not be asking one another or even ourselves: "Am I doing enough?"

As I said before, there is only one way to find the answer to this question, and that is to ask your Heavenly Father. Only He truly understands your unique situation and only He is qualified to judge whether you are fulfilling His desires and His plans for your family. If you are sensitive to His Spirit and open your heart and mind, He will encourage you and gently show you areas in your lives, your home and your homeschool need adjusting.

Ephesians 5: 10 says "...and find what pleases God..."

I believe that we parents need to be diligent to seek the Lord's guidance for the way to train up each unique child that we have and trust that He will equip them with the necessary knowledge and skills that He requires for His call on their lives.

"Trust in the Lord with all your heart and lean not on your own understanding, in all your ways acknowledge Him and He will make your paths straight." Proverbs 3: 5-8

We are called to do our best to serve Him diligently - and if we are, that is enough!




---Am I Doing Enough?---





Homeschoolers are Like Pioneers

The following is an email conversation from a homeschooling egroup:



Hilda wrote:

I sometimes sit and wonder if I am schooling my children correctly. I am plagued with questions such as:
What if I am not doing it right?
What if my children don't make it in life?
I wonder of my children are on par with other children their age...
And so on and so forth...
Do some of you suffer from the same thing or is it just me?


Sharon replied with wisdom:
Definitely! I wonder if I am missing out on some subject or skill that I have forgotten to teach.
Whenever I come across kids in regular schools, I watch them to see how my children compare. I wonder whether having them home is good on days when they are very annoying and I get particularly irritated with it all. After all, sending them to school would afford me a break!
The main thing is that homeschooling is something we do out of a conviction in our hearts, it goes against the stream, it is "unusual".
Whenever someone goes off the beaten path and starts forging their own, they must wonder where they are and whether they are on the right track. They may occasionally check their compass and get a vague idea (seeing other kids your children's ages), but for the most part they are slogging on, forging their path and doing what their heart is telling them to do.
Homeschoolers are like pioneers since no family is going to follow the same path as another homeschooler and this is the way it is meant to be. At the end of the day our kids are learning a whole lot of life skills that they wouldn't learn at school - like carrying on with something that they believe in even when they are not sure what they are doing and whether its enough.
Feeling unsure is part of the adventure - without it, it wouldn't be any fun!
Sharon
---Am I Doing Enough?---
Parenting and Homeschooling Articles
Homeschooling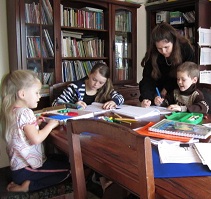 Parenting





---