HOME
Preschool Homeschooling
Seasonal Themes
Preschool Skills
Preschool Activities
Christian Homeschooling Advice
The goal for Christian homeschooling families is not just the raising of godly children...
Many Christian homeschooling parents start out believing that keeping their children at home and pursuing a Christian homeschool curriculum will churn out good Christian kids.
In many cases, this is true, but if you are putting your confidence in the educational choice you have made, you could be in for rude awakening.
The same as in any classroom, in your home there will be good days and bad days and you will be challenged by the conflicts and relationship issues that you will have to deal with. Home education is not just about academics, it is a character-building journey for the whole family and especially for the parents!
In our experience, there was a season when I often cried with frustration and wished I could just bundle my children off to school and be alone at home, in peace and quiet.
I have wished that I could hand over my responsibilities to someone else and not have to face the messy house, the bad attitudes and deal with disciplinary issues but, in my heart, that small, still voice reminded me that that is not the path that the Lord has set before me.
I had to calm down, refocus and ask the Lord for forgiveness, for renewed patience and a His advice.
The issues of a blended family and homeschooling a step-child, who was struggling with her own emotional baggage, was an added challenge that I faced for many years!
Then one day I came across this quote, which gave me a new perspective: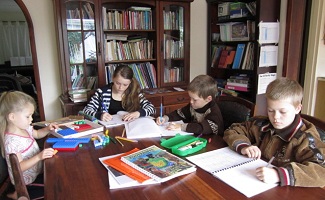 "...God's initial goal for Christian homeschooling families is not the raising of godly children. Instead, God's wonderful, but subtly hidden agenda is that the homeschooling experience be so challenging for the parents that they feel the need and hunger for a closer walk with their heavenly Father." (Kyle Miller)
During that difficult season,I can testify that many times I reached the end of 'myself', so to speak, and that my Heavenly Father lifted me up from my despair, filled my heart with joy and that consequently, we have been blessed with many happy times, even too many to remember.

Homeschooling is a lifestyle that a family chooses, putting their family values as a high priority. Family relationships develop and deepen and a great sense of unity develops as you spend time together, working and sharing 'growing'- and learning experiences.
"The very word 'homeschooling' can cause us all to forget that what we are doing is not about home-SCHOOLING but about creating that context in which we assist God in raising the little ones in our homes to become His men and women who are truly prepared for what is going to happen in their own generation. To be like King David whom God did not identify as a man 'with a good job,'but as a man who 'served his generation well. ' " (Chris Davis)
There is nothing more satisfying than seeing a child virtually devour good literature and know that you have taught her to read and helped her to discover the pleasure of reading books ...or to hear another child begging you to listen to her trying to read on her own ... or another tell you about his observations and discoveries out in the garden ... to see your children enjoying drawing, writing poems and doing spontaneous narrations about what they have learnt. In spite of some struggles, these are just some of the many heart-warming and happy moments that home education has brought me.
A final word of encouragement: Be strong and courageous - you will not be alone on this journey of home education. Many others have gone before you and if they could succeed, then with your Heavenly Father as your Counselor and Guide, you can succeed too.
"He who began a good work in you will bring it to completion..." Philippians 1:6


Parenting and Homeschooling Articles
Homeschooling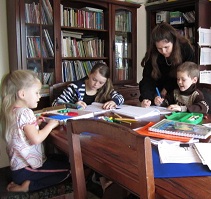 Parenting





---