HOME
Preschool Homeschooling
Seasonal Themes
Preschool Skills
Preschool Activities
South Africa
Childrens Literature Lesson Plans
These childrens literature lesson plans about South Africa include free printables, recipes for South African traditional food, mapwork and some Afrikaans language vocabulary to learn.

Around the World Preschool Theme
Introduce your children to countries, people and cultures from around the world.
Start with this quick Introduction to the World
Mapwork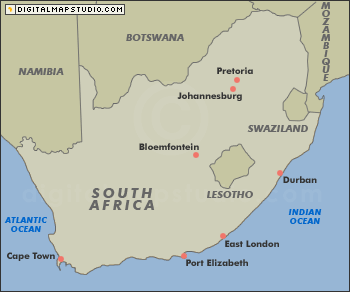 Locate South Africa on a world map or globe at the southern most part of the African continent.

Remind your children of the names of the continents they have already learned about so far and point to each one.

The largest city in South Africa is Johannesburg. Johannesburg was founded in 1871, when a tent town sprung up following the discovery of gold on the Witwatersrand in 1886. Johannesburg remains a mining hub and the financial capital of South Africa. It houses most of the large corporations and companies, which keep our country economically viable.

Cape Town is known as the mother city as it was the first western settlement established in our country's history.

If you are South African, help your children find the town or city where you live. Then identify other towns and cities that they know.

Top of South African Childrens Literature Lesson Plans




The South African Flag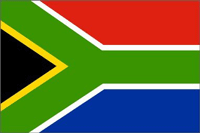 This is the national flag of South Africa. It represents the coming together of our Rainbow Nation in the new democratic South Africa. It was first flown in 1994.
Click on the flag image to download a free printable South African to colour in.




Top of South African Childrens Literature Lesson Plans




South African Languages
There are 11 official languages in South African, but English, Afrikaans and Xhosa are widely used.
Here is some Afrikaans vocabulary that you and your children can try and say:
Good day - Goeie dag


My name is ... - My naam is ( sounds like: may narm is...)


Mom - ma


Dad - pa


Teacher - juffrou (yifrow)


Food - kos


I am hungry - ek is honger


Thank you - dankie


Yes - ja


No - nee


Top of South African Childrens Literature Lesson Plans






SA Childrens Literature Lesson Plans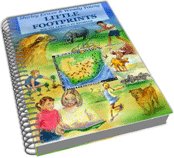 Little Footprints - South Africa in Stories is a complete curriculum for children aged 4-8 which consists of children's literature lesson plans.

Use it to take your children on a literature-driven sight-seeing tour of our scenic country and discover a wealth of fascinating topics to explore.

Children's literature lesson plans for over 30 of the best South African picture books are included as well as a dry write map and a picture disc for each story.



South African Homeschool Support - useful contacts and other information about homeschooling in SA.


Top of South African Childrens Literature Lesson Plans




Printable African Animals

Use the free printable ostrich template to make an ostrich poster "feathered" with children's hand prints. The world's largest bird, the ostrich, is indigenous to Africa.Here are more ostrich facts to enrich your studies.


Use this free printable African animals alphabet coloring book to re-inforce the learning of the letters of the alphabet.




Top of South African Childrens Literature Lesson Plans




Favourite South African Stories
Fly, Eagle, Fly! by Christoper Gregorowski
This award winning story is my personal favourite. An eaglet is rescued by a rural farmer after a storm and raised in captivity. A visiting friend challenges the farmer to see if this strange 'chicken' can fly. After failing in various ways, they set off before dawn one morning to see if the bird will fly from the edge of a cliff.
To me, the value of this book lies in the underlying message that this book will convey to its adult readers - that no one is born for mediocrity. We need to discover our potential and 'fly'!
Jock of the Bushveld, retold by Phyllida Brooke-Simons
This is an illustrated and abridged version of the Afrian classic by the same title. It tells the true story, which has been enjoyed for generations, of a Staffordshire terrier that was the pet of transport rider in the days of the Gold Rush in the early 1900's.
Jock was a remarkable fellow, a brave dog who accomplished many astonishing feats. Children will love this story. We have read it over and over.
Nelson Mandela - Long Walk to Freedom, Chris van Wyk
Based on Mandela's autobiography, this picture book gently tells the story of his life and his role in the struggle for freedom during the Apartheid era of South Africa, until his release and inauguration as the first democratically elected president of SA in 1994.
My 6 year old found this book fascinating, especially as it was 'really like this' in our own country and because he knows Mandela is still alive. It prompted many questions about the history of SA.
At the Crossroads, Rachel Isadora
This beautifully illustrated story depicts the life of children who live in a squatter camp, awaiting the return of their fathers who are migrant mine workers. It is a heart-warming story that reinforces the value of family relationships.
Download the free printable childrens literature lesson plans from Little Footprints to enrich your reading of this story. Bible, Memory Verse, Copywork, Social Studies, Geography, Art, Craft, Math and more are included.
The Herd Boy, Niki Daly
This tribute to the life of the late Nelson Mandela, focuses on a young herd boy, Malusi, who lives in rural South Africa. He dreams of being more than a herd boy one day, but for now, he focuses on being diligent in his daily work. One day, he meets a man in a flashy car who encourages him to live his dream. A touching story.

Top of South African Childrens Literature Lesson Plans



South African Traditional Food
South Africans eat a wide variety of foods, similar to most western countries. Some traditional foods are:
Biltong - jerky
Rusks - crisp type of convectionery often dunked in coffee
Bovril - beef extract spread for bread
Potjiekos - a casserole prepared in a three-legged pot over an open fire
Braai - chops and sausage (boerewors) prepared on a open fire (barbeque)
Samp & beans - maize and sugar beans
Melktert - milk tart
Bobotie - a spicy meat dish made with ground beef and served with yellow rice

For more South African and other recipes, sign up for my Free Printable Weekly Menu Planner



Bobotie
Ingredients
2T oil
1 onion, chopped
2tsp curry powder
1 slice white bread
2/3 cup milk
500g minced meat
1 T apricot jam
1 T lemon juice
4T hot chutney
4T seedless raisins
6 Dried apricots (optional)
Salt and black pepper
2 eggs
half tsp curry powder
2 lemon/bay leaves
Desiccated coconut for serving - optional

Method
1. Soak the bread in half of the milk and then mash it.
2. Heat the oil, add the onion and cook until soft.
3. Add the curry powder and mix well, then add the bread.
Stir in the meat, jam, lemon juice, chutney, raisins, apricots and seasoning.
4. Mix well and continue cooking, stirring occasionally.
5. When browned, turn the mixture into a shallow dish and smooth on top.
6. Combine the remaining 100ml milk, eggs and curry powder and pour over the meat.
7. Spike with the bay leaves in the centre.
8. Microwave on 50% for 25-30 minutes or bake in oven until egg mixture has set. Serve with yellow rice, tomato, chutney and desiccated coconut.
Yellow rice
Add 2ml turmeric, a stick of whole cinnamon, 15ml sugar and 5ml margarine to rice while cooking. Seedless raisins can also be added if desired.



Easy Buttermilk Rusks (kids can help with this)
Ingredients
1,5kg self-raising flour
375ml sugar
a pinch of salt
500g margarine/butter
500ml sour milk*

Method
1. Pre-heat oven to 180oC.
2. Mix all dry ingredients together.
3. Rub in the margarine.
4. Add sour milk and mix thoroughly.
5. Roll into balls and place in greased bread pans.
6. Bake for about an hour. Remove from pan and break or cut into pieces.
7. Place on a rack to dry in a 'cool' oven.

*Add a table spoon of lemon juice or vinegar to fresh milk if it is not sour.

Top of South African Childrens Literature Lesson Plans




---