HOME
Preschool Homeschooling
Seasonal Themes
Preschool Skills
Preschool Activities
Capillary Action Experiment
Demonstrate the absorption of water by plants to your children with this capillary action experiment.
This is such an easy science experiment and kids love it. In your own words, explain the following concepts in a way that young children will understand it. Capillary action can be described as the ability of a liquid to flow against gravity.
The liquid rises spontaneously in a narrow space such as a thin tube, or in porous substancess such as paper.
Paper towels absorb liquid through capillary action, enabling a liquid to be transferred from a surface to the paper towel.
Similarly, the minute pores of a sponge act as small capillaries, allowing it to absorb a relatively large quantity of liquid.
Talk about how capillary action can be a problem causing rising damp in buildings:
To prevent damp problems, a waterproofing substance is applied to building foundation walls to prevent moisture from passing through the walls into interior spaces. A damp-proof barrier is also used walls used to prevent moisture rising through the structure by capillary action. A layer of special plastic is also laid under concrete floors to prevent damp problems.
Capillary Action in Plants
You will need
Celery or a daisy
Ink or food colouring
glass bottle


Method
Place the ink or food colouring in a glass jar.
Place a stick of celery or a daisy in the jar and leave it for about four hours.
Cut a slice of the stem of the celery.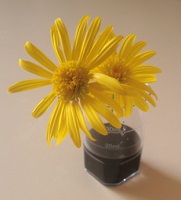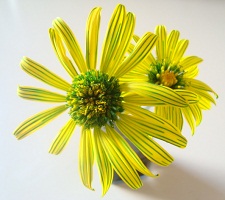 The daisy before (left) - Blue lines on the daisy petals after (right)
Result
The blue colour has risen up the stem of the plant as the plant sucked up the liquid.
This demonstrates that plants suck up water through their stems.
You should see coloured dots in the stem of the celery where the coloured liquid has travelled up the capillaries of the plant.



Easy Science Experiments for Kids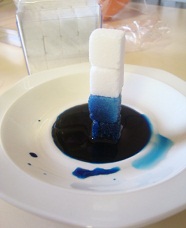 Evaporation Science Experiment
Soap Bubbles
Soap Experiment
Salt Solution Evaporation Experiment
Sugar Crystals Experiment
Sugar Tower Absorption Experiment
Surface Tension Experiment
---