HOME
Preschool Homeschooling
Seasonal Themes
Preschool Skills
Preschool Activities
Bookmark Craft
Use an old envelope to make this quick and easy bookmark craft.
This is a great craft for kids - it uses up old envelopes, it prevents dog-ears on the corners of pages of your books, its ultra-cheap and very quick and easy.
Just one warning: Don't use crayons that will rub off and discolor the pages of your books. Felt-tipped markers are probably best for this bookmark craft.
Corner Bookmarks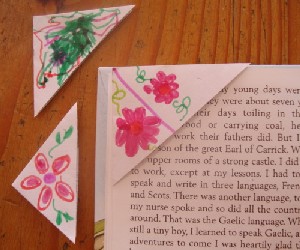 You will need

old, used envelopes
scissors
felt-tipped markers or pencil crayons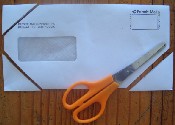 Method
1. Cut the two bottom corners off some old envelopes as shown with each side of the triangle roughly 4cm long.
2. Draw a design on each corner.
3. Slip the corner over the corner of a page in a book, to finish your bookmark.



More Cutting and Paper Crafts for Kids
Let your children experience the textures of different mediums and practice fine motor skills, like cutting and pasting. Tearing is also a good activity for developing fine motor skills.

This free printable bookmark free printable bookmark, inscribed with an inspirational educational poem will make a special gift for both parents and teachers.
ABC Fun & 1-2-3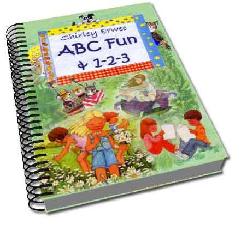 is a preschool programme that gives you
nursery rhymes
to learn each week, as well as a list of recommended,
quality children's stories
to read aloud together as you and your children adventure through the alphabet, one letter per week.
Gentle, age-appropriate activities and worksheets are included.
All the hard work is done for you, just open up the book and start building your child's communication skills for life!
Click here for more details: ABC Fun & 1-2-3
---