HOME
Preschool Homeschooling
Seasonal Themes
Preschool Skills
Preschool Activities
Bird Feeder Craft
Use an empty toilet roll for this easy bird feeder craft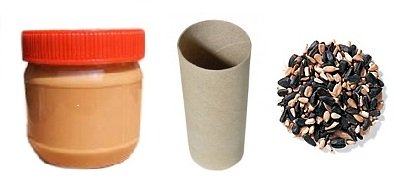 You will need
Empty toilet roll (for each child)
Peanut butter
Assortment of birdseed
Sharp-pointed scissors (for adult use only)
String



Method
1. Carefully make a hole on each side near the top of the toilet roll and thread some string through it so that the toilet roll can hang once the birdfeeder craft activity is finished.
2. Let each child smear peanut butter all over the empty toilet roll.
3. Place different seeds in the peanut butter all around the roll. Encourage the children to make different patterns and strips using different types of seed.
4. Once the bird feeder is covered with seed, hang it up outside where birds will have safe and easy access to it, then enjoy watching the birds that it attracts.
Pages Related to Bird Feeder Craft

Fall / Autumn Songs and Nursery Rhyme Activities
Add these fall preschool nursery tunes with free printable activities to your fall preschool theme.



Six fall crafts for kids including collage, two birdfeeders and environmental activities.



Find dozens of other preschool crafts listed in categories: painting, drawing, modelling and cutting and pasting activities.




Recipes for pumpkin fritters, butternut soup and easy apple crumble to warm you up this season!

---