Art Appreciation
Begin an art appreciation adventure with your preschoolers and enrich their lives with inspiring works of art by the greatest artists of all time.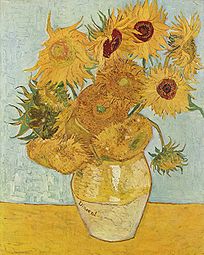 "We cannot measure the influence that one artist or another has on the child's sense of beauty, upon his power of seeing, as in a picture, the common sight of life..." (Charlotte Mason, Original Homeschooling Series, Volume 1, Home Education)



The Reason for Art Appreciation

Our Art Appreciation Activities









The Reason for Art Appreciation

When I first started researching homeschooling on the internet, I came across some websites about Charlotte Mason. What I remembered most was the use of living books instead of text books. It made sense to me, but I was still too 'green' to take it all in and apply this new knowledge.

Some years later, I was again drawn to read more Charlotte Mason and her 'gentle art of learning'. Of the books I have read about about this remarkable 18th century woman, A Charlotte Mason Companion by Karen Andreola is my favourite.

Charlotte Mason said that education is a science of relations - A child needs to be introduced to a wide range of subjects and allowed to make his/her own relations with them.

This is the idea behind a 'generous' education and the teacher or parent's role is to help the child to make these relations.

It was after reading this, that I realised the purpose of art appreciation. I want to expose my children not just to the ideas of great authors, but also to the works of great musicians and artists.
Click here for more about our Music Appreciation.



Our Art Appreciation Activities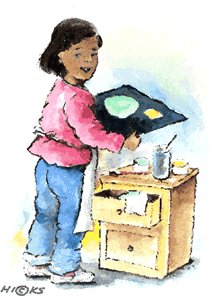 1. Visit Art Galleries
2. Watch Artists in Action
3. Coffee Table Art Books
4. Art Appreciation Online
5. Stories about Famous Artists
6. More Art Appreciation Books for Children
7. Art in Other Picture Books
8. Internet Art Adventures
1. Visit Art Galleries

We began our journey into art appreciation with some field trips to local art galleries. One of the many advantages of living in a beautiful coastal holiday resort town, is that it is an attractive place for retirees and artists seeking a quiet yet beautiful place to live - and so there are a number of art galleries where their work is displayed.

One of South Africa's famous artists, Gregoire Boonzaaier has a gallery just down the road from where we live. We popped in there one morning and admired not only the paintings but the impressive price tags on some of them too. We left with a small print of his masterpiece, the famous painting of District Six which we placed in an easy-to-see place in our kitchen for a while.

The secret to a successful visit to an art gallery is to give the children the freedom just to admire or criticize the artworks they see. Don't try and make the occasion into a lesson. "Children must be allowed to ruminate, must be left alone with their own thoughts" said Charlotte Mason.

You could also read the series of books about Katie and her visits to the art gallery. Start with Katie Meets the Impressionists (More books listed below)

Back to list of activities.





2. Watch Artists in Action
Another day, we visited another art gallery, which some of the artists also use a studio, and so we could admire some of their works in progress.
Just recently, we were all most impressed with the live art demonstration of a young artist from Zimbabwe who created a vibrant rural African impressionist-style painting using acrylic paints on a canvass right before our eyes, during the Hermanus Whale Festival. In an online art adventure (links below), we had learnt about Millet, who liked to paint realistic pictures of peasants working in rural settings, so the children and I had a short conversation about the similarities between the two artists.
As Karen Andreola explains: "Firsthand experience is not always available or convenient. Our children may not be able to hold a conversation of be in personally in touch with a deep seas diver, a geologist, or a person from ancient times, but they can come to know any of these people through the books they have written. A single author does a wonderful job of helping form relations."
After reading more of Charlotte Mason's ideas about art appreciation, I knew that I didn't wanted my children just to do preschool art activities, but also become familiar with the art and music of our modern culture, as well as that of the artists that have gone before us.
Back to list of activities.
3. Art Appreciation in Coffee Table Art Books

We can't visit The Louvre or The National Gallery to see original paintings of great masters, so I first scoured our local library for large coffee table art books. The one or two that I found, we displayed on an easel and simply admired the large reproductions of some of the artists' works. We began with a book of Impressionists. [Watch out for nudity in some art books!]

Since our library only has a few books suitable for art appreciation, I had to turn elsewhere to find ways to introduce my children to artists. Calendars with large prints of famous art have been one alternative.

Back to list of activities.





4. Art Appreciation Online

An easier alternative has been the internet. At Olga's Gallery I have found biographies of artists and their pictures that I can download and set as a desk-top background on my computer. In this way, the children see the pictures often and become familiar with them.

I have sometimes selected a picture that is in some way connected with something else that we may have been reading about or studying in our literature. For example, when reading the story of Balto, the heroic sled-dog who took medicine across the snow in Alaska in an emergency situation, we looked at Monet's The Train in the Snow, and while studying flowers in Science, we admired some of the many paintings of Monet's garden.

Back to list of activities.





5. Stories about Famous Artists

Since 'adult' art books are quite pricy and not that appealing to my young children, for now, I have decided to build up a collection of children's story books written about famous artists. These are the first step to introducing the children to the artist and his paintings in a fun way. This has been hugely successful at sparking their interest in what could potentially be a boring subject. With four children aged 7 and under, it has taken just a few birthdays and Christmas to collect the following, which are all highly recommended by my children, not just me!

Katie and the Sunflowers
- James Mayhew
Katie Meets the Impressionists
- James Mayhew
Katie and the Mona Lisa
- James Mayhew
Camille and the Sunflowers
- Laurence Anholt
Degas and the Little Dancer
- Laurence Anholt
Picasso and the Girl with the Ponytail
- Laurence Anholt
Leonardo and the Flying Boy
- Laurence Anholt
Linnea in Monet's Garden
- Christina Bjork and Lena Anderson
Henri Matisse: Drawing with Scissors
- Jane O'Connor
Bijou, Bonbon and Beau : The Kittens Who Danced for Degas
- Joan Sweeny

You can have great fun combining your art appreciation studies with matching preschool art activities and craft projects. After reading about Van Gogh's sunflower paintings, we planted sunflowers and the children also made their own sunflower collages.
Back to list of activities.
6. More Art Appreciation Books for Children

We are also working through the Come Look With Me series
by Gladys S. Blizzard. These four books, Enjoying Art with Children
, Exploring Landscape Art With Children
, Animals in Art
and World of Play
are not story books.

Each double page has a painting on the left hand side, some leading questions about it on the right hand side, which stimulate the children to examine the painting and express their thoughts about it as well as some biographical information about the artist.

I have a recipe book holder in which I stand the book we are studying.We tend to display each painting for a week or longer, before moving on to a new one.



Back to list of activities.





7. Art Appreciation in Other Picture Books

Another way in which we study art, is by looking at the variety of different media used to illustrate the children's picture books that we read and study. Many of the stories in Little Footprints are beautifully illustrated using media such as water colours, pastels, oil paints, charcoal sketches and a combination of these. In the preschool art activities of this programme, the children are encouraged to experiment with the relevant art medium used and are sometimes required to imitate the artist's creativity and style.

In our home, preschool activities for art appreciation are not scheduled in to our week. We just do art appreciation when we think of it, since it is something we all enjoy. For now, we are just reading, looking and familiarizing ourselves with a small selection of famous artists, although there is much more that one can do as part of art appreciation. Charlotte Mason encourages children to narrate and verbally or pictorially describe a painting that they have admired. There are wonderful preschool art activities and art unit studies on the internet too.

Back to list of activities.





8. Art Appreciation Internet Adventures

We have also had fun adventures unraveling some art mysteries.

These are more suited for slightly older children, although my 5 year old has enjoyed helping my 7 year old as we guessed the answers to the art appreciation mysteries:

The Case of Grandpa's Painting

Inside Art

Back to list of activities.



---