MAXIMISING POTENTIAL
The Whole Child e-zine brings you free preschool activities each week to maximize your child's potential, build skills and parent-child relationships in just a few minutes per day. Useful tips, quotes, resources, opportunities and articles will added for extra value!
If you enjoy this e-zine, please pay it forward and send it to a friend.
If you received THE WHOLE CHILD from a friend and you would like to subscribe, please sign up at Shirley's Preschool Activities.
---
16 June 2006, Issue #017

CONTENTS

1. Hello from Shirley
2. Updates at Shirley's Preschool Activities
3. Book reviews
4. Tips!
5. Quotes
6. Readiness Activities

---
1. Hello from Shirley
Hi

Now that the upheaval of moving is almost over, we 'got stuck in' to homeschooling again this week.

Our new home as a school room where we have put up our maps, poster pictures, alphabet mural and the kids own artwork. We love it.

If you are not receiving this email in html format or you find white gaps where there should be images, then use this link for a much more colorful and easier-to-read version!



---
2. Updates at Shirley's Preschool Activities

1) Check out the Father's Day Poems page. I have added two new printable poems.

Daddy, I Love You - printable poem to make.

Father's Love Letter - a ready-made greeting card (for Father's Day or any occasion) to print with a Bible-based message. It's beautiful.

Father's Day is this Sunday!

2) There are also two new, illustrated, printable Bible memory verses.

3) I added an RSS Feed to my site this week. What's that?
Use any of these links to my site, and look for the RSS Feed button under the yellow navigation bar on the left. Select "What's an RSS Feed?" for a quick explanation of the benefits it offers.

4) ABC Fun & 1-2-3 = Ebook


Finally, I am very excited by my latest milestone. I launched my preschool / homeschool curriculum, ABC Fun & 1-2-3 in e-book format.

In the past month over a hundred moms from all over the world have downloaded it (free) to begin a gentle learning adventure with their little ones. 26 weekly preschool lesson plans, including printable preschool worksheets, easy kids crafts, reviews of over 100 quality children's stories, nursery rhymes and more are included in the 220 pages.

You can read more and preview sample lessons here. The price is now US $22.00 (less than $1 per week).

You can check the exchange rate to your currency at www.xe.com
(Its around AU $29 and ZA R149, CAD 24, GBP12, NZD 35)

I'd appreciate it if you'd share this info in your circles and add your personal recommendations too if you've got it. Thanks in advance!

Reply to me if you're a website owner and you'd like to sign up as an affiliate and earn commission on sales that you generate.


---
3. Book Reviews

If you ever want to bless your kids by investing in a great compilation of quality kids stories, then this is my recommendation. It's quite expensive, but you'd never buy 44 stories elsewhere for this price, so budget now for a birthday gift or Christmas!

We have had many hours of pleasure sharing the stories and re-reading the kids' favourites from The 20th-Century Children's Book Treasury: Picture Books and Stories to Read selected by Janet Schulman.





"This treasury gathers 44 of the most memorable and best-loved children's books of our time into one sumptuous, beautifully produced volume. Classics, contemporary best sellers, medal winners and family favourites chosen from over the last 100 years are brought together in a collection designed for sharing and reading aloud."
Preview on Amazon.com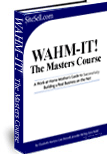 WAHM It! The Masters Course is part of the secret to my site's success. About 6 months ago I knew nothing about site-building and now I have a little online business that earns me dollars while I sleep!
Download this ebook and find out how you can share something YOU love, yet still be there for your kids - to dry a tear or rejoice over a new achievement.

Take the WAHM It! Masters Course today!
Your screen may remain blank for a few minutes as the file downloads. You will need to have Adobe Reader installed to read this file.
(Use the link in the Readiness Activities section below if you need to download Adobe Reader.)

Use your 'mommy time' to build your home-based business!




---
4. Tips
Easy Lego pick up tip
Lay a sheet on the floor when your children play with Lego or other toys with small parts.
When its time to tidy up, pick up the corners of the sheet and tip the blocks back into their container.


---
5. Quote

"All children are artists. The problem is how to remain an artist once he grows up. "

Pablo Picasso (1881 – 1973)




---
6. Readiness Activities

To download the printable pdf you will need to have installed Adobe Reader - opens in new window.

The Whole Child - Week 17 Activities - printable pdf

Week 17

Gross Motor Skills

To create body awareness cut parts of the body from magazine pictures. Ask your child to arrange them in order from head to feet and paste them on paper. The parts need not match or be in realistic proportions. Talk about the relationship between the different size body parts. "This hand is smaller/bigger than the arm" etc.


Fine Motor Skills

Let your child play with wooden blocks. Wood has different textures than plastic and each type has its own smell too. She will learn to create representations of visual concepts as well as discover building techniques.


Auditory Perception

Play a listening memory game. If the weather is fine, you could go on a listening walk. Ask your child to listen and recall afterwards as many different sounds as possible. If you are indoors, sit quietly and see how many sounds she can hear. e.g. a computer humming or a fridge running, passing traffic, a bird or dog outside, wind, etc.


Language and Thinking Skills

Ask your child to close her eyes while you take her on an imaginary journey. You must both picture the words you describe. Take her on… • A balloon ride over the city
• A hike through the bush
• A boat trip on a rough sea
• A truck trip through the desert to an oasis
Let her have a turn or help describe details too.


Visual Skills

Draw two identical shapes on a chalkboard, but leave one shape incompletely drawn for your child to complete. Begin with geometrical shapes like circles, squares, houses, then draw more complex ones, stick figures etc.


Faith Building

If you are creating a prayer tree as suggested in Week 15, it should already have some flowers (prayer requests, dated) and some fertilizer on the grass (scriptures to memorise).

This week, talk to your children about the rain in your lives. Rain is like bad weather in our lives, difficulties, trials or afflictions that we experience, but like rain on plants, it is temporary and helps us to grow and seek the Lord. Create some raindrops and on each one write some of the trials that your child or family is experiencing (and praise God for them!)


---