MAXIMISING POTENTIAL
The Whole Child e-zine brings you free preschool activities each week to maximize your child's potential, build skills and parent-child relationships in just a few minutes per day. Useful tips, quotes, resources, opportunities and articles will added for extra value!
If you enjoy this e-zine, please pay it forward and send it to a friend.
If you received THE WHOLE CHILD from a friend and you would like to subscribe, please sign up at Shirley's Preschool Activities.
---
2 June 2006, Issue #015

CONTENTS

1. Hello from Shirley
2. Updates at Shirley's Preschool Activities
3. WAHM It! again
4. Tips!
5. Quotes
6. Readiness Activities

---
1. Hello from Shirley
Hi

We recently sold our home and have to move out by the end of June, but when my husband came home with the keys of the vacant house we will be renting, my kids begged us to get boxes and start packing!

The reason for their excitement is that the 'new' house is old and enormous, with 6 bedrooms, a study, a library ( my delight), huge farmstyle kitchen and an enormous garden with trees and hiding places.

..so life will be very disrupted for me, but I will try not to skip an issue of The Whole Child

If you are not receiving this email in html format or you find white gaps where there should be images, then use this link for a much more colorful and easier-to-read version!



---
2. Updates at Shirley's Preschool Activities

Last week I added more information about the uniquely South African story-based homeschooling curriculum that I co-authored - Little Footprints
By using Little Footprints, mothers get into the habit of reading aloud and sharing books with their children. This programme helps you to establish routines in the home that will ease your children into more formal learning at a later stage. The local flavour of the stories will delight your children and stimulate them to want to learn about our nation.

To put it in 'South Africanese' - local is lekker!

("Lekker" is an expressive word meaning good, great, super and a whole lot more!)

ABC Fun & 1-2-3 is soon to be launched in e-book format.

Thank you for all the price suggestions so far. I hope you are enjoying it with your kiddies and that I will receive some testimonials in the next few weeks.


---
3. WAHM It! again

If you haven't already done so, then don't miss the opportunity to consider adding a new dimension to YOUR life.

Are you struggling to balance your career and family?

...or are you at home with the kids, but really need to share your talents and maybe earn some extra income?

...or perhaps you'd just love to be in a different field, doing what you love most?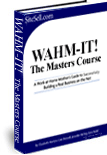 for work-at-home-moms will show you how to balance working on your passion and the demands of managing a home and caring for your family. Starting out, setting up, organizing, all the nitty-gritty detail is explained by real women who are building new online businesses. I even know two of them.
Download it and in about 20 minutes your head may be spinnning with inspiration.
Take the WAHM It! Masters Course today!

Your Heart is for Your Kids, Right, but This is for YOU!

Where do I find the time to work on my site?
Mostly at night, when my children are in bed. I almost NEVER watch TV!


---
4. Tips
Choosing kids clothes
These are some of the criteria that I use when buying kids clothes. Of course, I don't always stick to all of them, but I try to.
1. Choose dark colours that hide stains, especially for pants.
2. Choose fabrics that won't need much (if any) ironing.
3. Select clothes that the kids can easily put on alone - elasticised pants and no-button tops.
4. For very young ones, I try to buy shoes that fasten with velcro instead of laces or buckles.
5. One finger should fit tightly behind the child's heel to allow some growing room in new shoes.
---
5. Quote

"Better to build children than to repair men. "

Unknown




---
6. Readiness Activities

This week I have again created a pdf document that you can print. To download it you will need to have Adobe Reader installed.

If you have a problem with this format, please reply to this email and I will send it to you in a different format.

Download Adobe Reader - opens in new window.

The Whole Child - Week 15 Activities


---