MAXIMISING POTENTIAL
The Whole Child e-zine brings you free preschool activities each week to maximize your child's potential, build skills and parent-child relationships in just a few minutes per day. Useful tips, quotes, resources, opportunities and articles will added for extra value!
If you enjoy this e-zine, please pay it forward and send it to a friend.
If you received THE WHOLE CHILD from a friend and you would like to subscribe, please sign up at Shirley's Preschool Activities.
---
12 May 2006, Issue #012

CONTENTS

1. Hello from Shirley
2. Updates at Shirley's Preschool Activities
3. WAHM It! again
4. Tips!
5. Quotes
6. Readiness Activities

---
1. Hello from Shirley
Hi

If you are not receiving this email in html format or you find white gaps where there should be images, then use this link for a much more colorful and easier-to-read version!



---
2. Updates at Shirley's Preschool Activities

Since adding the free e-courses last week, I have been working on getting my preschool teaching guide ABC Fun & 1-2-3 into e-book format, so that it is more affordable to international clients. Another technological learning curve for me!


---
3. WAHM It! again

Last week I told you that for me, the reward of sharing my passion with thousands of visitors to my site each month is priceless!

Yesterday, the amount of traffic on my site hit a new alltime high, because a few more of my pages are ranking higher with the search engines and so more people find my site.

How did I learn to do all this? WAHM It! The Masters Course will tell you.

If you haven't already done so, then don't miss the opportunity to consider adding a new dimension to YOUR life.

Are you struggling to balance your career and family?

...or are you at home with the kids, but really need to share your talents and maybe earn some extra income?

...or perhaps you'd just love to be in a different field, doing what you love most?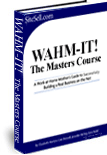 for work-at-home-moms will show you how to balance working on your passion and the demands of managing a home and caring for your family. Starting out, setting up, organizing, all the nitty-gritty detail is explained by real women who are building new online businesses. I even know two of them.
Download it and in about 20 minutes your head may be spinnning with inspiration.
(I'm already planning a second site, even though somedays I think I'll need a clone to do that one for me!)
Take the WAHM It! Masters Course today!

Your Heart is for Your Kids, Right, but This is for YOU!

If you already own a website, you should consider subscribing to Google's Adsense program too.
You can learn more here:


---
4. Tips
Fresh hot bread daily
For many years my husband has wanted to buy a breadmaking appliance. Last week he finally did and we are all delighted!
I always thought it would be a hassle to have to make the bread, but it is so easy - you almost toss the ingredients in, set the timer and leave it be...and when it's done, you just wipe or rinse the container clean - NO fuss!
Not only is it marvellous to smell the bread baking and eat it while its still warm, but we're able to eliminate the preservatives and other "no, no's" of store-bought bread.
Add one to your Mother's Day wishlist today!


---
5. Quote

"No pessimist ever discovered the secret of the stars, or sailed to an uncharted land, or opened a new doorway to the human spirit."

Helen Keller




---
6. Readiness Activities

This week I have again created a pdf document that you can print. To download it you will need to have Adobe Reader installed.

If you have a problem with this format, please reply to this email and I will send it to you in a different format.

Download Adobe Reader - opens in new window.

The Whole Child - Week 12 Activities


---