MAXIMISING POTENTIAL
The Whole Child e-zine brings you free preschool activities each week to maximize your child's potential, build skills and parent-child relationships in just a few minutes per day. Useful tips, quotes, resources, opportunities and articles will added for extra value!
If you enjoy this e-zine, please pay it forward and send it to a friend.
If you received THE WHOLE CHILD from a friend and you would like to subscribe, please sign up at Shirley's Preschool Activities.
---
8 May 2006, Issue #011

CONTENTS

1. Hello from Shirley
2. Updates at Shirley's Preschool Activities
3. WAHM It! What's that?
4. Tips in bed!
5. Quotes
6. Readiness Activities

---
1. Hello from Shirley
Hi

This week I learnt another lesson the hard way!! If I edit my ezine before it gets mailed out, I have to change the mailout date too, otherwise you receive the unedited version. My apologies for the repetition of the previous week's activities in last week's issue.

There was also a glitch with the backissue on my site, but it seem to be repaired now!

If you are not receiving this email in html format or you find white gaps where there should be images, then use this link for a much more colorful and easier-to-read version!



---
2. Updates at Shirley's Preschool Activities

Have you ever laid in bed at night thinking about new things do to that could change your life?

If you haven't, you should have that experience!!

The free e-courses that I have added to my site could help you do that.

Download them, make a cup of coffee and settle in for a good read.


---
3. WAHM It! What's that?

I know that you signed up to this ezine to get free readiness activities but as I said last week, I can't help but want to share with others about the wonderful opportunity that the internet offers to anyone who wants to add a new dimension to their life.

For me, the reward of sharing my passion with thousands of visitors to my site each month is priceless!

Are you working and struggling to balance your career and family?

...or are you at home with the kids, but really need some stimulation and extra income?

...or perhaps you'd just love to be in a different field, doing what you love most?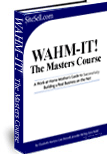 WAHM It! The Masters Course for work-at-home-moms is written by four pretty ordinary women who decided to start online businesses.
They talk openly about how they did it and even give you realistic figures of what they earn and how long it took. (There are other case studies too.)
They will show you that an online business is affordable, flexible, and convenient. You can work at your web site and business when you like, at the speed that suits you, and still put the all-important needs of your family first.
NO Pressure!
In this ebook, which will take about 20 minutes to read, you will see that success is quite easily achieved.
Take the WAHM It! Masters Course today!

Your Heart is for Your Kids, Right, but This is for YOU!

If you already own a website, you should consider subscribing to Google's Adsense program too.
You can learn more here:


---
4. Tips
Need a good night's sleep?
I am often asked how I cope with homeschooling, housework and all that a mom of 5 does - with a baby.
For me, a good night's sleep means not having to get up to the baby at night, so we co-sleep...and we invested in a king-sized bed so that all 3 of us are comfortable!
This way baby doesn't even have to cry for me - we both just wriggle closer and nurse back to sleep. To me it's "the natural way" to cope!
You might also like to read these articles:
Homeschooling? How Do I Cope?

Homeschooling with Babies and Toddlers


---
5. Quote

"We all need someone who inspires us to do better than we know how. "

Anonymous


---
6. Readiness Activities

This week I have created a .pdf document that you can print. To download it you will need to have Adobe Reader installed.

If you have a problem with this format, please reply to this email and I will send it to you in a different format.

Download Adobe Reader - opens in new window.

The Whole Child - Week 10 Activities


---